January 30, 2018 | FIRENZE, Italy – Gold Note – the Italian High-End manufacturer based in Firenze – is introducing IS-1000, an innovative all-in-one source designed to deliver high quality audio combining analogue and digital technology, available at a MSRP of 4200,00€ (5000,00$) worldwide through Gold Note retailers in October 2017.
IS-1000 is an advanced fully integrated amplifier that redefines the way music playback is experienced, seamlessly merging a Preamplifier, a Power Amplifier, a Phono Stage, a DAC and a Streamer in a unique and complete source.
Gold Note IS-1000 is a Roon Ready device, fully compatible with multi-room systems and with a quick plug & play installation: simply connect IS-1000 to the network (Wi-Fi or Ethernet) and to the speakers, then explore the endless possibilities of music, streaming from Tidal & MQA via Tidal, Qobuz, Spotify & Spotify Connect and Deezer with Roon or the Gold Note dedicated App [available for iOS and Android] or browsing your collection of digital music stored on NAS, HDD and USB sticks – including DSD64 format.
The new Class A/B amplifier with 125W @ 8Ω per channel (and 250W @ 4Ω) per channel developed exclusively for IS-1000 guarantees vivid dynamics, the pure sound and finest detail while also offering a wide range of digital and analogue inputs (including A/V and Phono MM/MC) to assure total control and the freedom to upgrade, expand or connect more devices to the IS-1000.
With the knowledge and the experience developed in over 20 years of research across the whole spectrum of audio reproduction and recording, Gold Note is finally able to offer an all-in-one solution powered by technology and audio grade components to achieve audiophile sound.
"Imagine a complete High-End stereo system enclosed in a beautiful aluminum chassis carved in bold Italian style: this is the best way to describe IS-1000." explained Maurizio Aterini, founder of Gold Note.
Maurizio also stated: "The refined innovations made for IS-1000 come directly from the experience made with our flagship models, like the preamplifier P-1000 and the power amplifier PA-1175, which inspired us to create a new all-in-one source that would integrate the analogue components of a high quality amplifier and phono stage with the digital technologies of a streamer and a DAC in order to deliver outstanding performances while minimizing the effort and the gear needed: we have designed IS-1000 to achieve the best audio quality and to offer a huge number of features in. And if you are in love with vinyl (like me) connect your turntable directly to IS-1000 and spin the record, you'll find that we have put great care into the phono stage."
IS-1000 features 6 digital inputs (PCM up to 24/192):
3 optical (TOS)
1 Coaxial (COAX)
1 USB type A (DSD 64 native and via DoP)
1 LAN & Wi-Fi (DSD 64 native and via DoP)
3 analogue inputs:
1 XLR balanced
2 RCA (Line or A/V processor or Phono MM/MC)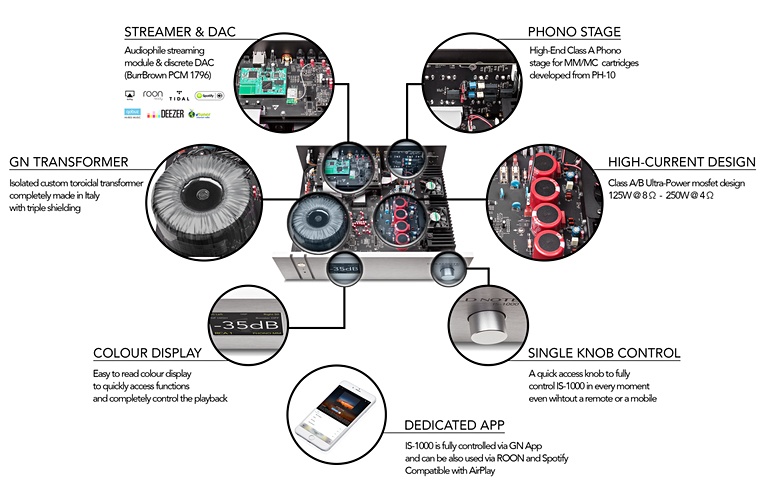 To offer the best versatility it also features 2 analogue outputs – 1 RCA variable and 1 RCA fixed – to connect your source to IS-1000 or to match it with your active speakers and even with power amplifiers.
The IS-1000 is a radical, innovative solution dedicated to audio enthusiasts looking for a real high quality All-In-One source.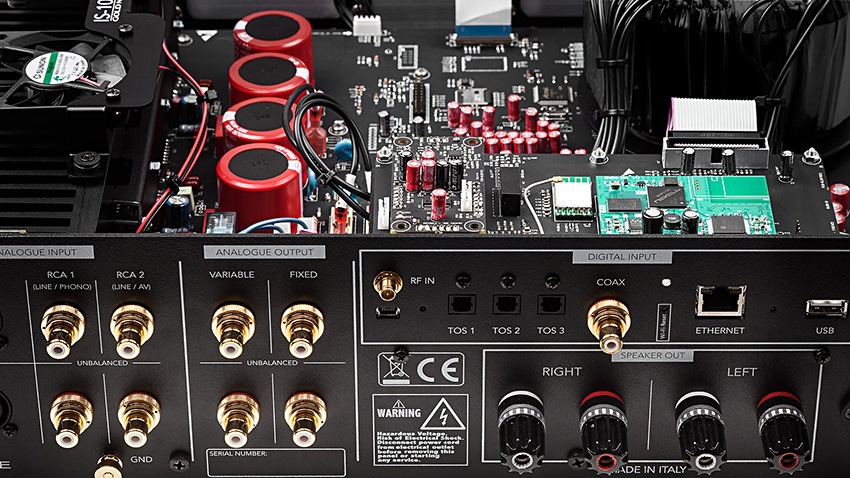 Int Amp: Class A/B High-Current Mosfet design 125/250W per channel @ 8/4Ω (opt. 150/300W @ 8/4Ω)
High-Res Streaming from on-line services Controlled via App (available for iOS & Android)
Airplay & Roon Ready
UPnP & DLNA supported
DAC: high quality BurrBrown chipset (PCM1796, PCM1792A)
Phono Stage MM/MC: developed from the awarded PH-10
High-mass chassis designed and manufactured in Italy
Digital inputs
PCM up to 24bit/192kHz
3 optical (TOS)
1 Coaxial (COAX)
1 USB type A (DSD 64 native and via DoP)
1 Ethernet LAN & Wi-Fi (DSD 64 native and via DoP)
Analogue inputs
1 XLR balanced
1 RCA Line & Phono MM/MC
1 RCA Line & AV-Ind
Analogue outputs
1 RCA variable
1 RCA fixed
Speakers
Connectivity
Supported streaming services:
TIDAL & MQA via Tidal
Qobuz
Spotify & Spotify Connect
Deezer
V-Tuner
Supported audio formats:
AIFF (.aif, .aiff, .aifc)
WAV (.wav) packed/unpacked
FLAC
WmA Windows media Audio 9
WAX Windows media audio metafiles
ASX Advanced Stream Redirector (.asx)
MPEG-4 Advanced Audio coding File, .aac, .m4a including Apple lossless
MP3
DSD 64
Supported media servers:
Minim
Bubble UPnP
and all UPnP certified media servers