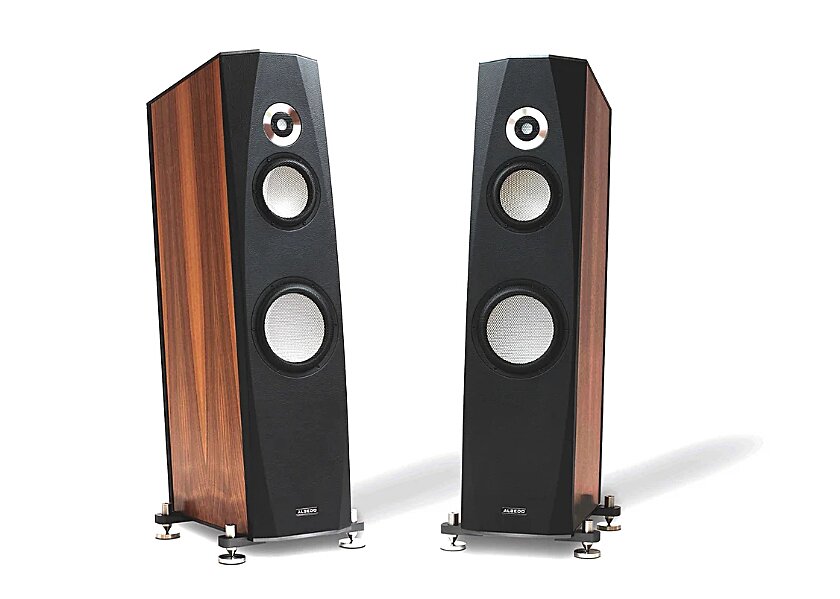 Montelabbate, Italy | 2023 – Our new Agadia model represents the synthesis of a long period of passion for the search for always better sound. Since its ideation, we wanted to create something different, that characterizes it from all the others, so that it can be unique in its genre. That is why we decided to transcend traditional concepts and not put limits on our creativity.
Agadia is a small 2.5-way floorstanding tower inspired by the design of its bigger sister Acclara and which contains an atypical formula for bass reproduction that continues to maintain the traditional Albedo transmission line system.
High-quality ceramic drivers remain a fundamental requirement for sound rich in detail, dynamics and transparency.
We have reinterpreted the 2.5-way system
According to our philosophy so that it can satisfy the expectations of the most demanding enthusiasts who are still looking for a reasonable loudspeaker.
Using a larger transducer for the half way, we have increased the radiating surface to increase the sound pressure as in a 2.5 way loudspeaker but keeping the higher energy and dynamics typical of 3 way systems. In this way it has been possible for us to use higher impedance transducers with the advantage of offering a loudspeaker with a nominal impedance higher than the classic 8 ohms and thus solving the weak point of all half-way loudspeakers.
That's why Agadia is an easy load for any type of amp, it doesn't thirst for power, easy to control, it will be able to express its best qualities even with entry-level amps. The distortion level will always be low and the balance of the music will always be the same.
Agadia is the smallest of the collection but it also reflects the outstanding characteristics of our Aclara model, with the same shapes, the same design and the same care for the mechanical stability of the cabinet and the reduction of vibrations with heavy damping steel plates.
In the same way, the cabinet also uses 30mm sandwich wood boards, whose thickness reaches up to 40mm on the front and in the areas subjected to the most stress.
Agadia features a totally handmade point-to-point crossover.
In our view this means that each Mundorf component is connected to the other directly, without the need for additional wires, where the solder simply serves to mechanically stabilize each contact. So we believe that our design the audio signal passes through less metal and along the way more direct to the speakers.
As is our tradition, we use good quality Mundorf components such as low resistance OFC copper coils, PP oil impregnated capacitors and shielded anti-inductive resistors.
Technical Data
System > floor standing 2.5 ways
Loading > traditional transmission line Albedo filtered by resonators (Helmholine System)
Drivers > 8" sandwich woofer, 7″ ceramic midrange, 1'' ceramic tweeter
Crossover > point to point soldering, acoustic second order
Sensitivity > 86 dB (2.83V 1m)
Nominal impedance > 11 ohm
Frequency response > 39 – 22.000 Hz
Dimensions > 25 x 46 x 108 cm
Weight > 62 kg net each