Vernier, Switzerland | 2023 – Full Power & Stability
The new Telos 8800 mono amplifier is one of the most powerful amplifiers in the world, featuring 4 separate electronic boards to maximise system stability. Telos 8800 sets a new standard for performance, with unrivalled power and revolutionary innovations that redefine the listening experience. This latest amplifier features a silver-metallised MKP polypropylene film capacitor, providing an exceptionally stable power supply for the Mosfet output stage, guaranteeing optimal stability even for demanding 1 Ω loads. 
Lift You Higher
To dissipate the heat generated by the power supply inside the amplifier, the sides of the Telos 8800 have been meticulously designed as heat sinks. Benefiting from a second heatsink, the amplifier guarantees optimum cooling performance, leading to exceptional audio performance.
More And More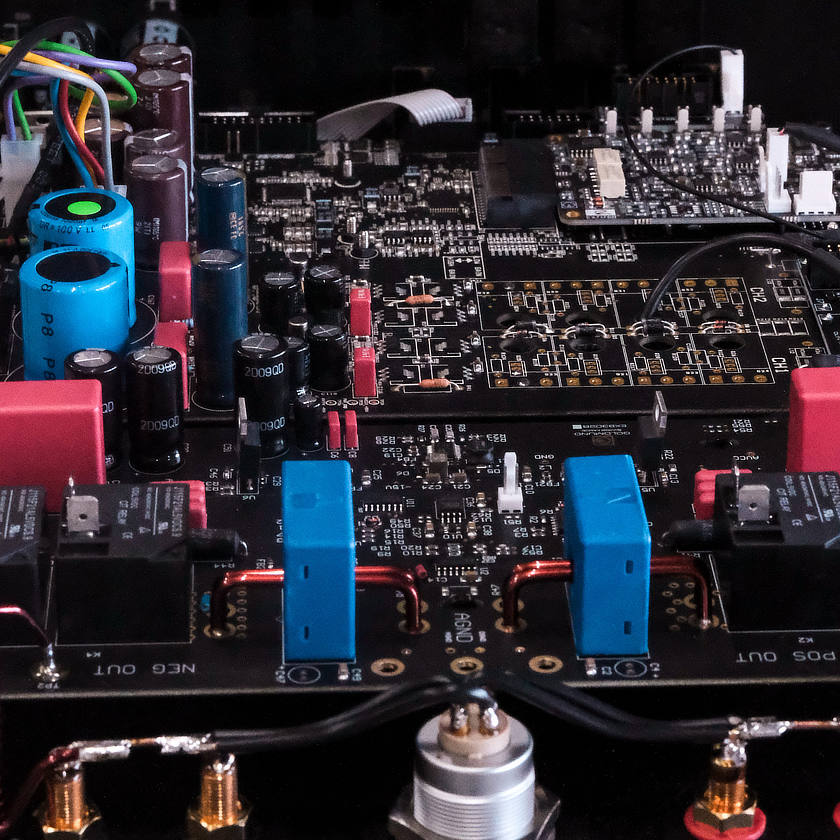 The Telos 8800 is the world's most powerful Class AB linear amplifier, delivering an impressive 1400Wrms of power with just 1% total harmonic distortion (THD) at 8 ohms. Due to the high specification and power of the amplifier, the Telos 8800 has been engineered with a fully analogue circuit, ensuring maximum thermal security and short-circuit protection.
Gold Plated
Reflecting the high level of its technology and design, Goldmund uses all-gold metal terminals and screws, in order to improve and guarantee optimum signal transmission and to minimise potential signal losses. A sharp and narrow amplifier for better conductivity. With no visible screws and featuring the emblematic rock texture on the sides and seamless construction, this sleek grey/black monochrome block highlights all the new technological prowess that has gone into this new Telos 8800 amplifier.