Southport, United Kingdom | 2022 – Sweet streams…
The NEO Stream is built to deliver optimal versatility and sonic performance.
It combines the latest version of our network streaming engine with our award-winning DAC stage to deliver a level of audio previously unattainable without spending much more than its £1,299 price tag. Just add your choice of amp and speakers.
Adds streaming capability to your cherished system

Sonically upgrades your existing streamer

The only streamer you will ever need
Distinctly different. Digitally disruptive.
Our use of proprietary tech makes the NEO Stream distinctly different.
No 'bought-in' platform. No specific control app.
Our own streaming engine. Fully optimized for seamless operation and excellent sonic performance.
Functionally and sonically, it's the ideal streamer for passionate music lovers who want to experience their music with exceptional sound quality through their own choice of control app or music platform. Without the exorbitant price tag.
Simply seamless streaming
Roon Ready –  Roon Ready certification means the NEO Stream slots straight into a Roon audio environment and works seamlessly with Roon software.
DNLA/UPnP – Use your choice of any DLNA/UPnP compatible app – BubbleUpnP, connect, Audirvana and so on – to control the NEO Stream and access audio content from online services.
Tidal Connect and Spotify Connect –  Stream straight from these integrated online music services.
Apple Airplay – Easy streaming from Apple devices.
NAA operation – Serious enthusiast? The NEO Stream can operate as a Network Audio Adapter. It directs packets of audio data received over Wi-Fi or Ethernet cable straight to the connected DAC without applying processing.
NAS drive – stream from a local storage device using the 'Stream-iFi' app.
Custom DAC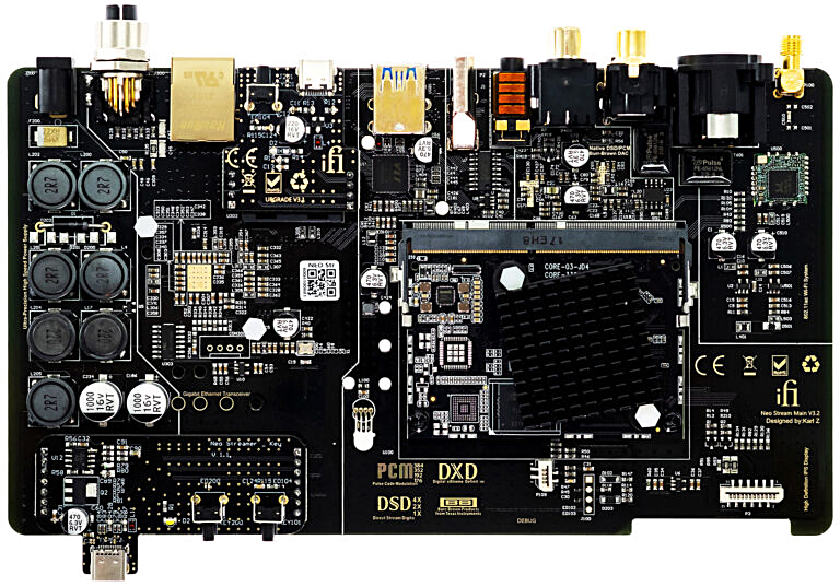 The NEO Stream's integral DAC stage takes your streaming enjoyment to another level.
Four-channel True Native hi-res DAC design – supports PCM 768kHz and DSD 512,
Powerful 16-core XMOS processor – performs full MQA decoding (to 384kHz)
Thanks to the DAC chip's four-channel True Native design, PCM and DSD take separate pathways and remain 'bit-perfect' in their direct-native form, right through to analogue conversion. In the case of DSD, there is no conversion to PCM or application of multi-bit processing – this is unusual and makes the NEO Stream an excellent choice for DSD purists.
Inputs
Dual-band Wi-Fi reception (2.4GHz and 5GHz) with 802.11a/b/g/n/ac support
Gigabit Ethernet (LAN) – 1x RJ45; 1x M12; 1x Optical LAN (see below for more information)
2x USB-A (USB2.0 and SuperSpeed USB3.0 supported)
1x USB-C system update port (OTA – Over The Air – updates also available)
Outputs
Analogue – 1x stereo RCA; 1x 4.4mm balanced
Ultra-res digital (PCM 768kHz, DSD512) – 1x HDMI-I2S; 1x USB-A (USB3.0)
Hi-res S/PDIF digital (PCM 192kHz) – 1x optical; 1x coaxial; 1x AES/EBU
Unique optical LAN
Connecting to your network router via cable rather than relying on Wi-Fi?  The NEO Stream includes a unique option alongside its RJ45 and M12 ports – optical LAN. This is our own technology. Connect the OptiBox transceiver to the router, and the NEO Stream to the OptiBox via an optical cable.  Both the OptiBox and cable are included.
Benefit from the highest quality digital audio connection possible between the router and the streamer.
Ultra-fast data speeds of up to 10Gbps
Bit-perfect transmission of ultra-resolution audio
Minimal degradation across distances of up to 1km
The LAN signal from the router is regenerated, reclocked and rebalanced by the OptiBox; true galvanic isolation is applied, with zero parasitic capacitance and inductance.
Suits you, sir
Several different settings allow users to tailor the NEO Stream's performance to suit their system and the way they like to stream.
Exclusive Modes are individual settings that optimise performance by focusing operation on one mode of use. There are specific settings for Roon, Tidal Masters, DLNA and NAA, as well as a general mode for multi-platform use.
Four user-selectable digital filters, each of which has a subtle but clearly discernible effect on sound, can be switched according to personal taste and music choice:
Bit-Perfect
GTO (Gibbs Transient Optimised)
Minimum Phase
Standard
Come on, heal the noise
The NEO Stream has been painstakingly engineered to remove noise and distortion from the audio signal:
USB ports use our ANC II active noise cancellation technology
S/PDIF outputs incorporate iPurifier technology
The digital signal is  regulated by our femto-precision GMT (Global Master Timing) clock to eradicate jitter
The retina-grade TFT display boasts SilentLine design so no electrical noise interferes with the audio signal
Circuit components with low ESR, high linearity and low noise mean great sound quality
Voltage regulators with high PSRR (Power Supply Rejection Ratio), low idle current and low dropout equal low power supply noise and a synchronous 1.2MHz high-speed power supply controller to improve filtering efficiency mean power supply noise is vanishingly low.
The NEO Stream has more clarity and texture, and a more dynamic and engaging performance – quite simply, you hear more of the music, just as the artist intended.
The XMOS 16-Core chip processes the audio data received via the USB digital input.
This new low-latency XMOS microcontroller has greatly enhanced processing power. Compared to the current generation of eight-core chips, this new 16-core IC delivers double the clock speed (2000MIPS) and four times the memory (512KB), as well as the latest SuperSpeed USB standard.
iFi's in-house digital development team has programmed the XMOS firmware to optimise sound quality and ensure a perfect partnership with the Burr-Brown chipset used in the NEO Stream.
Hi-res audio support is state-of-the-art with True Native® playback. It handles PCM data to 32-bit/768kHz, DSD up to DSD512 and single and double speed DXD.
Thanks to the Burr-Brown DAC chip's four-channel True Native design, PCM and DSD take separate pathways – this enables DSD, as well as PCM, to remain 'bit-perfect' in its native form right through to analogue conversion. This is not the case with all DAC devices from other brands – even if DSD compatibility is stated, many such DACs convert DSD signals to PCM.
Roon Ready network devices have Roon's streaming technology built in and are certified by Roon Labs to provide the highest level of quality and performance in network streaming.
Find out more about iFi and Roon here.
MQA (Master Quality Authenticated)
MQA is an award-winning British technology that delivers the sound of the original master recording. The master MQA file is fully authenticated and is small enough to stream or download. The NEO Stream adopts MQA technology to receive and decode MQA audio and provide master-level sound.
The NEO Stream's analogue circuitry features balanced design with a symmetrical twin-channel output stage.
This topology, usually reserved for larger and more expensive amplifiers owing to its cost and complexity, reduces noise and crosstalk in the signal path by fully separating the left and right channels.
Extensive jitter-eradication technologies are applied to the digital stage, including our GMT (Global Master Timing) femto-precision clock and intelligent memory buffer. This represents a total 'out-of-the-box' systematic digital solution that solves jitter once and for all.
TDK C0G (Class 1 ceramic) capacitors offer high stability and low losses for resonant circuit applications.
Getting ever closer to the theoretical ideal of pure, frequency-constant capacitance, these capacitors reduce capacitor-induced distortion to vanishingly low levels.
They are pricey but are a perfect addition to our products.
Panasonic OS-CON caps totaling 5,410uF give very-low Equivalent Series Resistance (ESR), excellent noise reduction capability and frequency response characteristics. In addition, OS-CONs have a long-life span and its ESR changes little even at low temperatures since the electrolyte is solid.
They are not often found in products costing <US$1000.
Tantalum capacitors are another example of the top-notch components we prefer. These polarised electrolytic capacitors have superior frequency and stability characteristics, giving them a super high volumetric efficiency.
muRata control-type, low-ESR high-Q multi-layer capacitors. The 'ESR control' aspect of the Murata is something special. Their noise suppression abilities are impressive.
Texas Instruments low-noise ICs offer great unity-gain bandwidth, very low noise and distortion, high output drive capability, Common-mode and Power Supply Rejection Ratios of over 100 dB, wide maximum-output-swing bandwidths and high slew rates.