Breda, Netherlands | 2021 – The Kharma Exquisite Midi Grand is part of the flagship series of the Exquisite Collection and materializes the absolute end of the high-end in audio, with only reality as a real competitor portraying musical recordings in their realistic size.The drivers of the Exquisite Midi Grand can be seen as the engine of this loudspeaker, which created the musicality that can be expected of the uncompromised design of this special loudspeaker. The quality of this Dutch Masterpiece is without a doubt guaranteed by using two Diamond tweeters as a standard in the Exquisite Midi Grand. The cone of the Diamond tweeters is the most essential part of the tweeter because it is capable to create impressively pure high frequencies.
Stand Design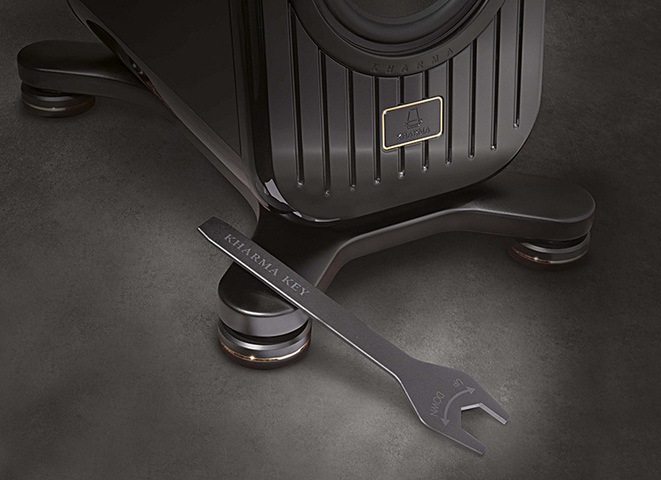 The Exquisite Midi Grand 3.0 comes with a newly developed integrated stand design. The speaker is decoupled from it's surrounding by minimizing the contact surface to the floor. Although the speakers looks to be directly standing on solid aluminum disks, the actual contact surface is realized by just four Tungsten balls of 8mm. This minimal contact surface as a result improves the clarity of the sound representation.
The Exquisite stand will be easy to tilt up and down with the Kharma key. This Kharma key will be delivered with your speaker model.
Bridge
The Exquisite Midi Grand 3.0 has a connector for the Mid/High section and for the Low section, which makes the system suitable for bi-amping or bi-wiring. For single-wiring, the Silver bridge terminals can be used to guarantee the sound quality.