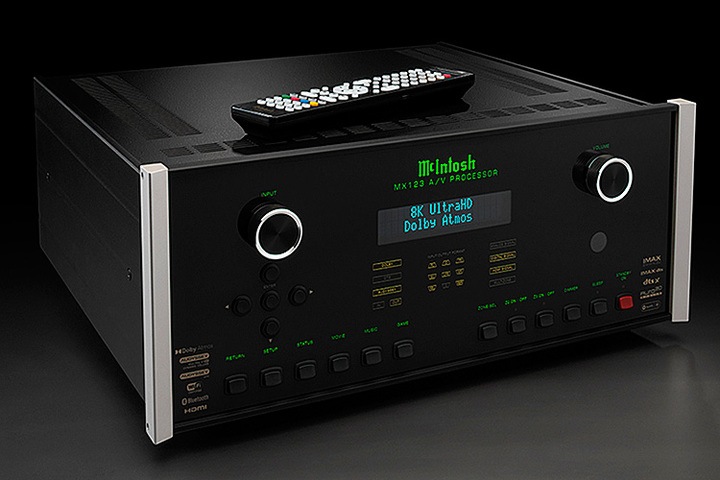 Binghamton, NY – September | 2021 – McIntosh, the global leader in prestigious home entertainment and ultimate-quality audio for over 70 years, is proud to announce an 8K compatibility upgrade for the MX123 A/V Processor. Since it was launched in October 2019, the MX123 has become a must have audio and video processor for countless home theaters. It launched with 4K/60Hz compatibility, but as technology has progressed and as McIntosh adheres to its philosophy of continuous product improvement, all new MX123 A/V Processors shipping from the McIntosh factory starting in September 2021 will support 8K/60Hz and 4K/120Hz video resolutions and refresh rates. The MX123 will also be able to upscale lower resolutions to 8K.
Of its 10 HDMI inputs and outputs, one of the inputs and two of the outputs will have 8K/60Hz and 4K/120Hz support (all 10 will continue to support 4K/60Hz). The three HDMI ports that are 8K/60Hz and 4K/120Hz compatible will also offer many other advanced features including Quick Media Switching (QMS); Auto Low Latency Mode (ALLM); Quick Frame Transport (QFT); and Variable Refresh Rate (VRR).
All 10 of the HDMI ports support HDCP 2.3; Rec. 2020; 4:4:4 color spacing; Dynamic Lip-sync; and 3D Video pass-through. And all 10 will also now support a myriad of high dynamic range formats such as HDR (static HDR); Dynamic HDR; HDR10+; HLG; and Dolby Vision (including low latency).
In addition to these exciting video upgrades, the MX123 will continue to offer an impressive list of audio capabilities: 13.2 audio channels; Dolby Atmos (including Dolby Atmos Height Virtualizer); DTS:X Pro; Auro-3D; Sony's 360 Reality Audio; MPEG-H Audio; IMAX Enhanced; eARC/ARC; Apple AirPlay 2; Bluetooth; Spotify Connect; and Audyssey MultEQ XT32. To facilitate integration into home automation systems, it also has Connects with Control4 Certification from Control4 and Works with Crestron Home certification from Crestron.

Pricing and Availability

MX123 8K units will start shipping from the McIntosh factory to their global dealer network beginning in September 2021. Orders can now be placed with Authorized McIntosh dealers. The 4K version of the MX123 is no longer available from McIntosh.
Suggested retail price (VAT, shipping and any customs duties related to current standards of individual countries are excluded): $8,500 USD.
About McIntosh
Founded in 1949, McIntosh Laboratory, Inc. is known for offering distinguished quality audio products, superior customer service and the ultimate experience in music and film. All McIntosh products are handcrafted at the Binghamton, NY factory by over 150 employees with a passion for music and the McIntosh heritage. McIntosh continues to define the ultimate home entertainment experience for discriminating consumers around the world, with the iconic "McIntosh Blue" Watt Meters globally recognized as a symbol of quality audio. Since its inception, McIntosh has been powering some of the most important moments in music history and pop culture. From President Lyndon Johnson's inauguration speech to Woodstock to the famous Grateful Dead "Wall of Sound," McIntosh has not only witnessed history, it has shaped it. With McIntosh, customers have the ability to create their own premium audio experience – and truly live their music. Visit www.mcintoshlabs.com to learn more.