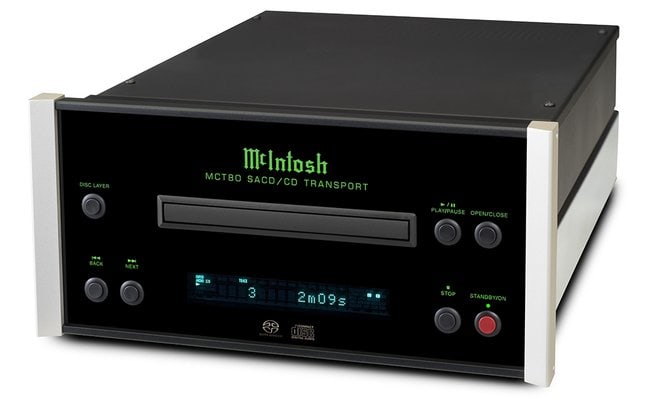 Binghamton, NY | August 17, 2017 – McIntosh, the global leader in prestigious home entertainment and ultimate-quality audio for over 65 years, is proud to announce the MCT80 SACD/CD Transport.
Enjoy your CDs all over again with the MCT80 SACD/CD Transport. The MCT80 has been designed to perfectly match the size of our MXA80 Integrated Audio System, MHA150 Headphone Amplifier, MB50 Streaming Audio Player and MP100 Phono Preamplifier (each sold separately) to make a comprehensive yet compact audio system.
The MCT80 includes 3 digital-only outputs in the form of 1 coax and 1 optical connector along with 1 of our proprietary MCT connectors. The MCT output offers a secure DSD connection for playback of the high definition audio on SACDs. To take advantage of the MCT80's unique SACD capabilities, it must be used with select McIntosh models that have an MCT input – which currently includes the aforementioned MXA80 and MHA150, plus the D1100, C52, C2600, C47 and D150 Preamplifiers as well as the MA9000 and MA8900 Integrated Amplifiers. The coax and optical outputs support CD audio formats up to 24-bit/192kHz. For listening to CDs, the MCT80 can be used with any product that contains a digital coax or optical input and a Digital to Analog Converter (DAC).
The MCT80 features an improved transport with a die-cast aluminum tray in conjunction with an advanced digital servo for faster, quieter and accurate operation. All common disc types can be played including SACD, CD, CD-R, CD-RW (MP3 and WMA) and user generated DVD or CD Data Discs with music file formats including DSD (up to DSD128), WAV (up to 24-bit/192kHz), FLAC, MP3 and others. A disc's audio data is read at twice the normal rate insuring better disc tracking and error correction processing. A twin laser optical pickup assures optimal disc reading. Power control and data ports integrate the MCT80's operational state with other McIntosh system components. It's wrapped in classic McIntosh styling with a polished stainless steel chassis, black glass front panel, illuminated logo and aluminum end caps.
Pricing and Availability
Orders for the MCT80 can now be placed with Authorized McIntosh dealers with shipping expected to begin in September.
Suggested retail price (VAT, shipping and any customs duties related to current standards of individual countries are excluded): $3,500 USD
About McIntosh
Founded in 1949, McIntosh Laboratory is known for offering distinguished quality audio products, superior customer service and the ultimate experience in music and film. All McIntosh products are handcrafted at the Binghamton, NY factory by over 150 employees with a passion for music and the McIntosh heritage. McIntosh continues to define the ultimate home entertainment experience for discriminating consumers around the world, with the iconic "McIntosh Blue" Watt Meters globally recognized as a symbol of quality audio. Since its inception, McIntosh has been powering some of the most important moments in music history and pop culture. From President Lyndon Johnson's inauguration speech to Woodstock to the infamous Grateful Dead "Wall of Sound," McIntosh has not only witnessed history, it has shaped it. With McIntosh, customers have the ability to create their own premium audio experience – and truly live their music. Visit www.mcintoshlabs.com to learn more.