Binghamton, NY, USA | 2022 – McIntosh is proud to announce the XCS1.5K Center Channel Loudspeaker, a critical component to perfect any home theater system, complementing the brand's iconic XRT2.1K or XRT1.1K Floor- Standing Loudspeakers, and voiced to match them to ensure impeccable sonic imagery with clear, high-quality sound.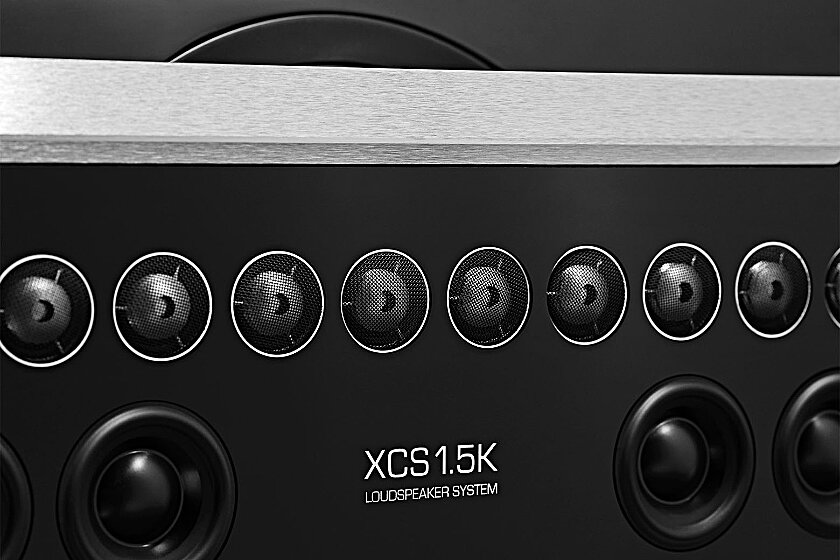 The center channel speaker is a critical component within a home theater due to the vast amount of dialog that emanates from it, and it must work seamlessly with the front left and right speakers to create a cohesive soundstage as sounds move from one side to the other. Rated to handle 1,500-Watts of power, the XCS1.5K is a unique hybrid of a 3 and 4-way speaker and can be used with a variety of McIntosh home theater processors and amplifiers to make a complete high- performance home theater experience.
KEY FEATURES INCLUDE:
43 individual speaker drivers

Four 8" long throw carbon fiber sandwich cone woofers housed in a vented bass cabinet

Fourteen 2.5″ aluminum midranges

Twenty-five 3⁄4″ dome tweeters

Can be tilted to one of five preset angles to be optimally aimed to the listening position

Three sets of Solid CinchTM speaker binding posts that allow for bi/tri-amping or bi- or tri-wiring

Strategic driver selection and detailed crossover design to create a wider sound field

High current capacity capacitors and inductors

Removable black knit cloth speaker grille

Finished with 7 layers of high gloss piano black paint

Classic McIntosh design elements
The XCS1.5K will be available via Authorized McIntosh Dealers beginning October 2022, retailing for $40,000 USD.
About McIntosh
Founded in 1949, McIntosh Laboratory, Inc. is known for offering distinguished quality audio products, superior customer service and the ultimate experience in music and film. All McIntosh products are handcrafted at the Binghamton, NY factory by over 170 employees with a passion for music and the McIntosh heritage. McIntosh continues to define the ultimate home entertainment experience for discriminating consumers around the world, with the iconic "McIntosh Blue" Watt Meters globally recognized as a symbol of quality audio. Since its inception, McIntosh has been powering some of the most important moments in music history and pop culture. From President Lyndon Johnson's inauguration speech to Woodstock to the famous Grateful Dead "Wall of Sound," McIntosh has not only witnessed history, but it has also shaped it. With McIntosh, customers have the ability to create their own premium audio experience – and truly live their music. Visit www.mcintoshlabs.com to learn more.