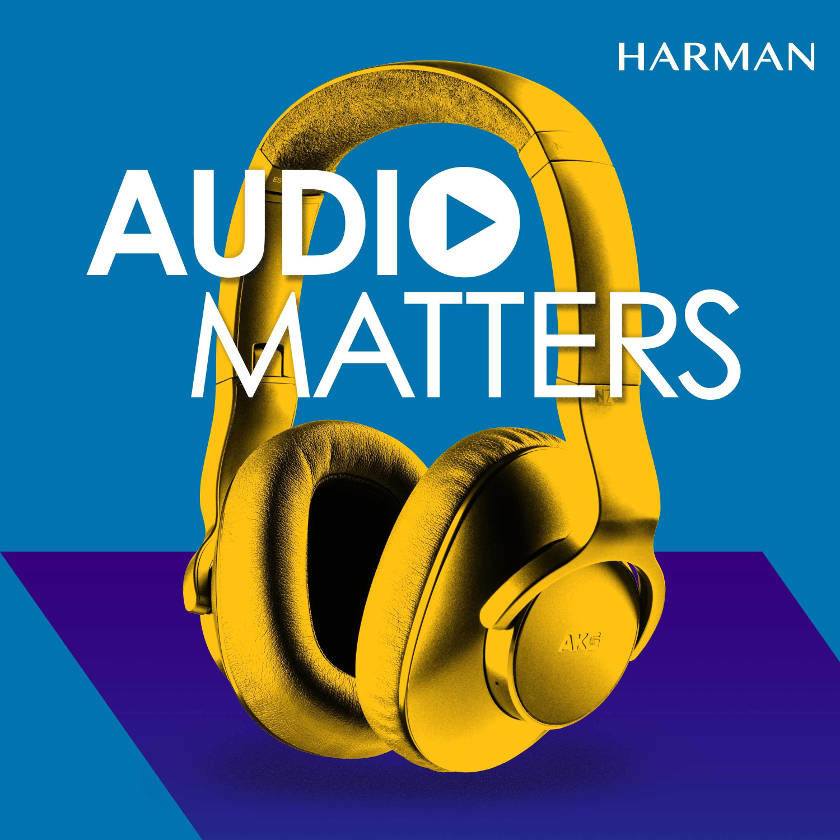 Munich/Europe, May 07 | HARMAN launches new Podcast Series and Documentary on the Art of Listening for Audio Enthusiasts to come together through the Power of Music
In the midst of the Covid-19 pandemic, millions upon millions of people from all corners of the globe have found themselves faced with a stark new reality of lockdown and social distancing. Events have been cancelled; engagements have been put on hold; the world seems to have slowed to a crawl. And while isolation measures are of the utmost importance in battling the virus, they come at a cost: countless men, women, and children are suffering from loneliness, anxiety, and a very real sense of disconnection.
In an effort to provide some relief from these destructive side effects, HARMAN is introducing Audio Matters, an all-new weekly podcast dedicated to a tradition that is among the defining characteristics of human beings: listening to and creating music. 'Audio Matters' will be available via the HARMAN website, on Podigee, and on all major podcast platforms including Apple Podcasts, Spotify, and Deezer.
Starting May 7, 2020, Audio Matters will share interesting, entertaining and informative content covering a variety of audio-related topics. Hosted by Oisin Lunny, professional music journalist, presenter and broadcaster, Audio Matters will feature esteemed expert guests to help make listeners feel engaged, connected and entertained.
Episode 1 will explain the notion of "active listening," with fascinating input from Dr. Sean Olive, Senior Fellow, Acoustic Research at HARMAN and past President of the Audio Engineering Society, Director of York Music Psychology Group Dr. Hauke Egermann, and 7x Grammy-winning music producer Frank Filipetti. Together, they will delve into the concept of deep listening, explore its benefits, and reveal how to tap into them. This episode builds on our recently launched Art of Listening documentary, which is available here and which has the goal to raise awareness about the profound advantages that active listening can provide.
In future episodes, Bill Wyman, HARMAN's VP Global Marketing Car Audio, Chris Ludwig, VP Epic Experience Team and Riley Winton UX Concept Manager at HARMAN will take you inside the car of the future exploring how user-centric audio experiences will come into the automobile. Additional episodes will explain how to set up your home audio system with a HiFi configuration guide for creating optimal listening warmth, and we'll talk to experts in large-scale audio installations for live and touring music to get insights on how to achieve the best sound for live performances.
Finding a sense of connection has never been more important, and music has a vital role to play. Please join us on May 7 for the first episode of Audio Matters.
ABOUT HARMAN
HARMAN (harman.com) designs and engineers connected products and solutions for automakers, consumers, and enterprises worldwide, including connected car systems, audio and visual products, enterprise automation solutions; and services supporting the Internet of Things. With leading brands including AKG®, Harman Kardon®, Infinity®, JBL®, Lexicon®, Mark Levinson® and Revel®, HARMAN is admired by audiophiles, musicians and the entertainment venues where they perform around the world. More than 50 million automobiles on the road today are equipped with HARMAN audio and connected car systems. Our software services power billions of mobile devices and systems that are connected, integrated and secure across all platforms, from work and home to car and mobile. HARMAN has a workforce of approximately 30,000 people across the Americas, Europe, and Asia. In 2017, HARMAN became a wholly-owned subsidiary of Samsung Electronics Co., Ltd.