Succasunna, New Jersey, USA | 2021 Following the enormous success of the Starkrimson® Mono amplifier, Orchard Audio is introducing the Starkrimson Stereo Ultra amplifier, with the same proprietary dual-feedback modulator and next-generation gallium nitride (GaN) transistors. Unlike its predicesor the Ultra amplifier delivers up to 500WRMS (1000WPEAK) of power and 20A of current while maintaining extremely low noise and distortion.
This latest design, which has already been previewed, tested and highly praised by those who were able to have access to it, fully explores the benefits of the latest GaN transistors, providing less harshness, cleaner highs, and better overall transparency and detail with irrelevant noise levels. The pulse-width modulation is performed completely in the analog domain before being amplified by the GaN power stages. Starkrimson amplifiers use Leo Ayzenshtat's proprietary DC-coupled, fully balanced dual feedback modulator, which allows the amplifier to be completely balanced from input to output, through the use of bridged GaN power stages.
This design provides the Starkrimson Stereo Ultra amplifiers with a huge reserve of power for extended transients, and the power expands linearly with the load – 125 watts into 16 ohms; 250 watts into 8 ohms; and 500 watts into 4 ohms – for powerful, unrestrained music. The amplifier is packaged in an aluminum and steel chassis with high-end gold-plated binding posts and connectors, with a front panel option of either matte black or brushed aluminum (silver).
Features:
Fully balanced from input to output (w/differential input)
Differential and single-ended audio inputs
Extremely low noise and distortion
2-ohm capable
20A of output current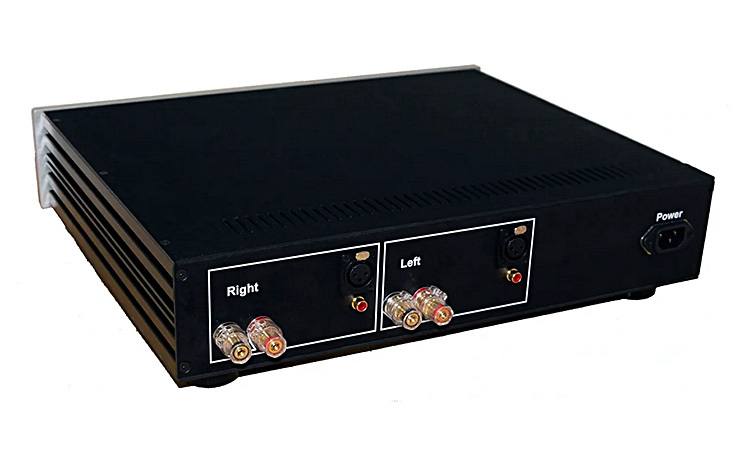 Specifications:
Signal-to-Noise Ratio (SNR): 120dB (A-weighted, 22kHz BW)
Frequency response: DC – 80kHz+
Gain (balanced input): 19.05dB
Gain (single-ended input): 25.05dB
Power output into 16/8/4Ω: 125/250/500WRMS
Orchard Audio is still offering preorder prices ($1,999.95 USD) on its website until the end of June 2021. Starkrimson Stereo Ultra amplifiers will start shipping in August and are available with differential (XLR) and single-ended (RCA) inputs or both ($150 option). All DIY enthusiasts can also order the Starkrimson Ultra Mono Amp Module and kits separately, in order to build their own systems.