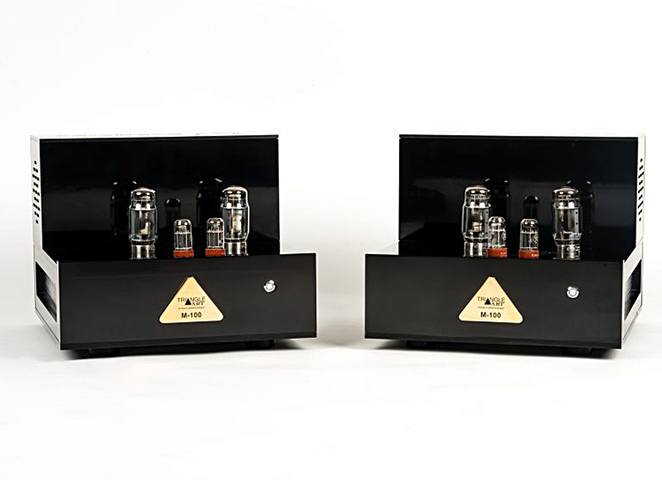 Anaheim, USA | 2020 – The newly designed M-100 Tube Amplifier is a state-of-the-art mono-block amplifier offering the ultimate listening experience. With the use of 2 KT120 output tubes, 2 6SN7 driver tubes (per channel) under Class A push-pull Triode mode, the M-100 is capable to deliver 120 watts of power.
The M-100 Tube Amplifier uses the latest mono-block circuitry and only highest quality parts and components are used throughout the amplifier circuit. The power and output transformers are custom wound in the USA in order to meet our high standards.
Output transformer is a new concept, it is a compound common mode type (CCM) that remains balanced with the output tubes elements while in operation. This offers four primary windings or two balanced primaries, Less intermodulation distortion (IMD) and more coupling efficiency, so more cleaner power prior to maximum.
Only 2db of what is called "negative feedback (NFB)", but it uses no power as NFB does, so it is stated here as a 2db "summing loop" and is not NFB.
This means does not offer an NFB or "compressed p-p sound", but retains a SE lifelike power up to 100+ watts!!
Parts are selected for least IMD over all more cleaner power is offered prior to maximum power.
Much more gain is built in with a gain pot adjustment to find and set the full music envelop (all music waveform from zero level) of the music source to be amplified by this amp. Adjustment is also to balance any offset music source.
Tubes are run near full plate dissipation in order to deliver maximum, clean power prior to full output.
Biasing for the output tubes can be done using the bias trimmers and measuring points, all can be easily accessed from the top of the amplifier. The main chassis of the M-100 Tube Amplifier is constructed with the use of 1″ thick aluminum panels. Each piece is CNC machined according to our specs, hand polished and then anodized in Black with 24 Gold logo plate to create the elegant two tone finish. Even the speaker binding posts and RCA on the rear of the amplifier are custom made for the best in long-life wear and maximum signal transfer.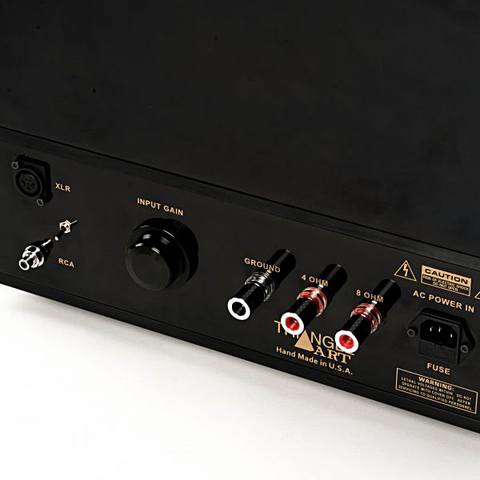 Conservatively rated with an output voltage of 120 watts, the M-100 Tube Amplifier is capable to deliver high power wattages and still maintains the clarity and delicacy of real music. Anyone who listens to the M-100 never feels the need for more wattage, all they want to do is put on more music.
Description
Design Features
– Push-pull pure class A mono block power amplifier
– Triode based configuration
– Short signal path
– Special custom made power transformer
– no coupling capacitor on signal path
– output section – direct heated triode KT120
– driver section – double triode 6SN7
– Special custom made hand coiled output transformer
– Special custom made coiled power transformer
– special power supply coiled choke
– Mundrof capacitors in power supply for the output tube
– Vishay resistor in power supply
– over 850J of energy storage for main HV power supply
– hand assembled all modulated chassis
– solid copper with rhodium plated PTFE insulated RCA input connector and Speaker binding post
– solid 1' thick panel all around
Specifications are subject of change without notice