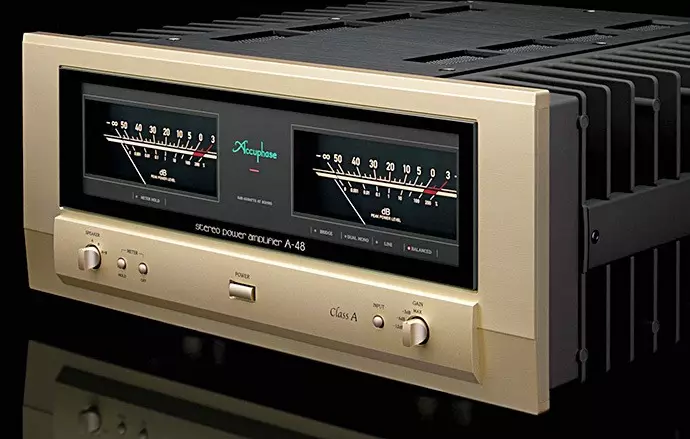 Yokohama, Japan | 2019 – The A-48 is a new addition to the highly acclaimed Accuphase lineup of quality Stereo Power Amplifiers.
True Class-A stereo power amplifier with authentic musicality
Featuring a six-fold parallel push-pull architecture with power MOS-FETs, as well as ideal gain allocation realized with discrete semiconductors in an instrumentation amplifier configuration, the A-48 harnesses a wealth of advanced technology. Its outstanding performance is exemplified by a signal/noise ratio of 117 dB, output of 360 watts into 1 ohm (music signals), and a damping factor of 800. The newly designed output protection circuit can detect any short-circuiting of the speaker terminals, for complete peace of mind. This power amplifier is the ultimate instrument for immersive music appreciation on the highest level.
Instrumentation amplifier principle realizes excellent S / N ratio and linear output characteristics
Instrumentation amplifier topology for improved noise performance
The A-48 employs an instrumentation amplifier configu- ration that is highly effective in keeping external noise from affecting the signal transmission lines. Further- more, the input stage is designed for high gain (22 dB) and the power amplification stage for low gain (6 dB). Consequently, the signal emerging from the signal input section has a large amplitude which makes it much less prone to external interference, thereby further improving the noise performance.
Signal input section with high gain
Similar to the higher-ranked A-75, the signal input stage of the A-48 is entirely configured with low-noise discrete circuit components. This makes it possible to design the circuit for a high gain of 22 dB (a multiplication factor of approx. 12.5), something that cannot be achieved with OP amp ICs. As a result, the S/N ratio of the amplifier is an astonishing 117 dB.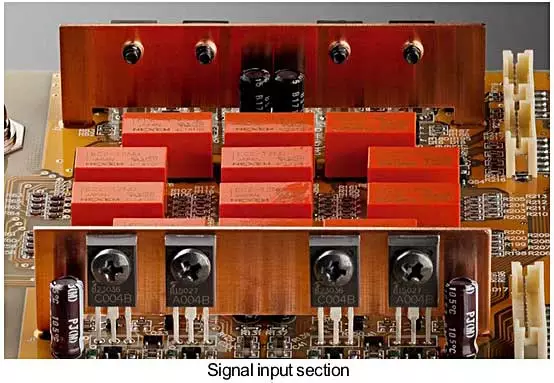 Linear output characteristics over entire load impedance range
The power amplification stage employs a 6-parallel push-pull arrangement of power MOS-FETs mounted directly to large heat sinks for highly efficient thermal dissipation. The result is fully linear power progression of 45 watts into 8 ohms, 90 watts into 4 ohms, 180 watts into 2 ohms, and 360 watts into 1 ohm (music signals). Plus, the impressive damping factor of 800 means that the amplifier can easily and competently drive any kind of loudspeaker.
Functionality- Convenience that makes sense

Advanced Features
 Power MOS-FETs in 6-parallel push-pull configuration
Linear output characteristics over entire load impedance range
Strong power supply with massive toroidaltransformer and large 60,000 μF filtering capacitors
Instrumentation amplifier principle
High-gain signal input section in discrete configuration
Dedicated power supply for signal input section
Line and balanced input connectors
Polarity switching for balanced input connectors
MCS+ circuit topology
Current feedback principle in amplification circuitry
Protection circuitry using MOS-FET switches
High damping factor of 800
Balanced Remote Sensing
Speaker output protection circuit guards against short-circuiting
Highly responsive large peak power meters
Two sets of large speaker terminals
4-step gain control
Support for bi-amping and bridged mode
Aluminum top plate with hairline finish