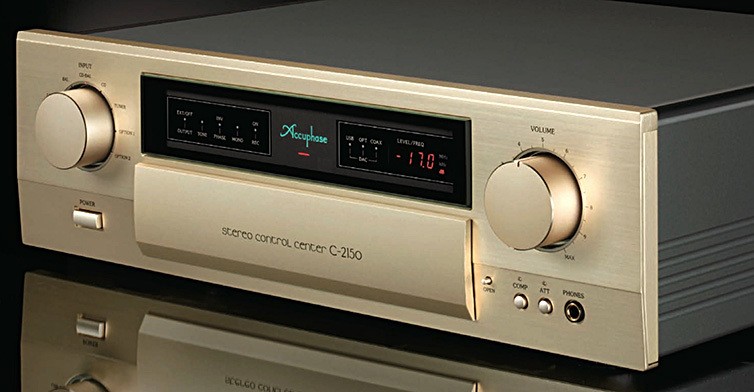 Yokohama, Japan | 2019 – The C-2150 is a new addition to the highly acclaimed Accuphase lineup of quality High End Audio Electronics.
Newly developed ANCC makes AAVA even better: The next-generation control center featuring latest technology.
The C-2150 for the first time combines a new topology called ANCC with the AAVA volume control principle. As a result, music reproduction is supple, elegant and full of transparency, with a spatial expression capability that makes one forget the presence of any volume control circuit. With a functionality level close to higher-end models and a versatile array of input and output terminals, plus the choice of adding option boards, the C-2150 provides fully immersive music enjoyment. This next-generation control center will satisfy even the most demanding music lover.
Innovation – The leading edge of technology
AAVA operation principle is purely analog
AAVA converts the music signal into 16 differently weighted current streams (1 / 2, 1 / 22, … 1 / 215, 1 / 216) which are combined according to the position of the volume control knob, resulting in exactly the desired listening level.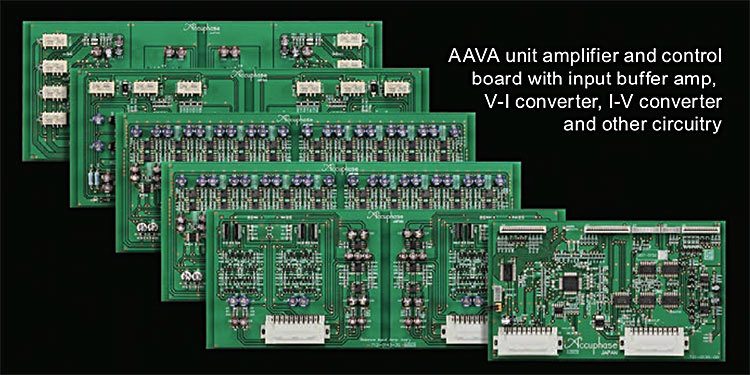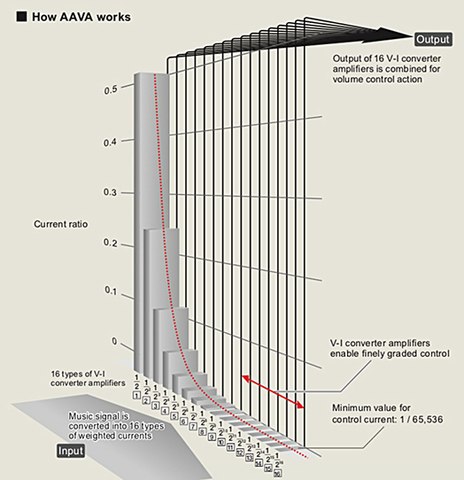 Drastic reduction of distortion and noise
ANCC: Accuphase Noise and distortion Cancelling Circuit
The C-2150 uses ANCC topology for the I-V converter amplifier, bal- anced output amplifier, and headphone amplifier. This innovative topol- ogy adds a sub-amplifier for effectively canceling noise in the main amplifier circuit. The use of low-noise technology in the sub-amplifier (noise density: 1.5 nV / √Hz) further enhances the benefits of ANCC. By incorporating ANCC in the I-V converter amplifier and the balanced amplifier of the AAVA section, a further drastic reduction in noise is achieved, especially at low to medium volume level positions.
High reliability – Separate unit amplifiers for left and right
The C-2150 comprises five separate amplifiers: input buffer, V-I converter, I-V converter, output buffer, and headphone. These are configured as five separate circuit boards arranged on a motherboard, providing ample space for components and ensuring outstanding reliability and performance. Left and right channels are kept completely separate to prevent unwanted electrical interaction.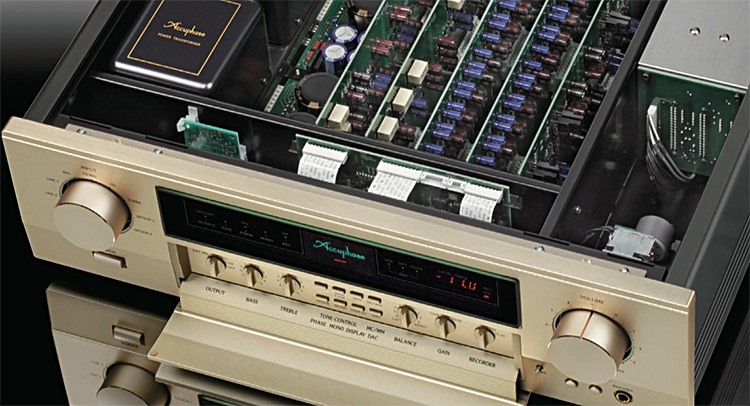 Advanced features
Logic-control signal switching relays for shortest signal paths
Five line level and two balanced inputs
Line input and output connectors for a recorder
EXT PRE function allows use of external pre- amplifier
Individual phase setting for each input
Stereo signal can be switched to monophonicoperation
Instrumentation amplifier principle for input buffer
AAVA also adjusts left / right channel balance
AAVA circuitry uses thin-film resistors to minimize thermal fluctuations and current noise
Convenient attenuator is useful for example when operating an analog record player
Loudness compensator enhances low end presence
Tone controls using summing active filters
Dedicated headphone amplifier using ANCCfor optimum sound quality
Maximum gain can be set to 12 dB, 18 dB, or 24 dB
Separate power supplies for left and right channels prevent mutual interference
On / off switching capability for level / frequency display
Champagne-gold front panel and high-gloss side panels
Two option board installation slots
DAC input selector button for use when digitalinput board (DAC-50 or DAC-40) is installed
Numeric indication of digital signal sampling frequency (when DAC-50 or DAC-40) is in- stalled)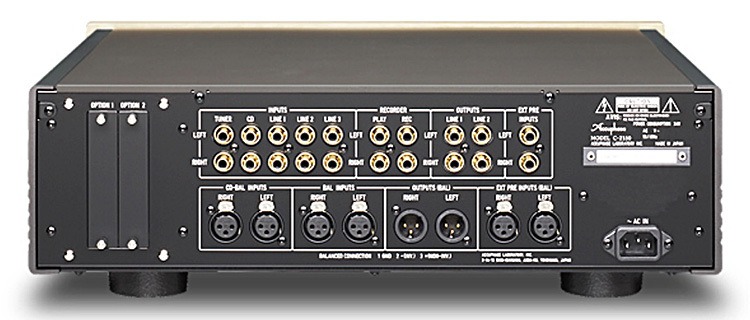 Option Boards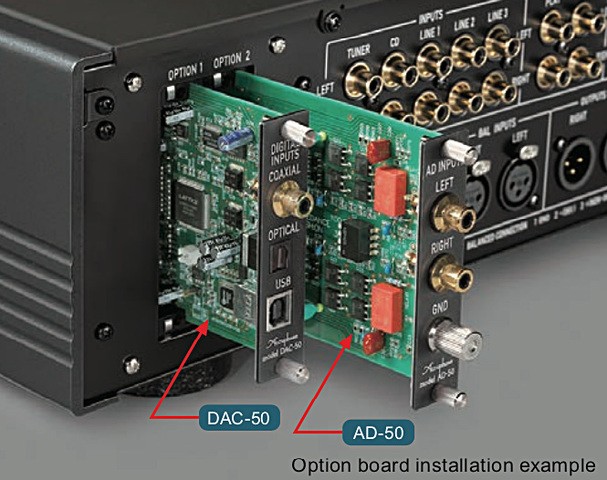 Up to two option boards can be inserted into dedicated slots on the rear panel. Three types of option boards are available.
Digital Input Board DAC-50 High-performance DAC with two AK4490EQ chips from Asahi Kasei Microdevices driven in parallel.
Analog Disc Input Board AD-50 – Features a high-performance phono equalizer for playback of analog records.
● Supports MC and MM cartridges
● MC load impedance selector button
● Subsonic filter
C-2150 Guaranteed Specifications