Yokohama, Japan | 2021 – DP-1000 Precision SA-CD transport – The DP-1000 is the culmination of Accuphase's 50-year pursuit of creating the ideal transporter. This high-rigidity, high-precision drive is equipped with a silent and elegant disc loading mechanism. The outer rotor brushless DC motor smoothly rotates the disc, while the newly developed dampers protect the pickup from vibrations. Incorporating a number of technological improvements like a low center of gravity and fortified frame alongside features like programmable playlists, the DP-1000 is the ideal transport to quietly and accurately read data.
The Technology of Precision
Vibration countermeasures in SA-CD/CD players that read audio data from rapidly rotating discs greatly impact sound quality. The DP-1000 uses a highly rigid 7.2 kg (15.9 lbs) SA-CD/CD drive mounted on a 3.8 kg (8.4 lbs) bottom plate to create a low center of gravity. This low center of gravity construction prevents the housing from wobbling while significantly reducing external vibrations from reaching the traverse mechanism. The traverse and disc loading mechanisms are interconnected using high-quality elastic dampers of two different hardnesses to reduce the magnifi- cation of natural resonances in the objective lens and actuator, thus improving reading precision.
Carved from an aluminum block and then finished with a hard anodized aluminum and satin finish, the elegant and elaborate disc tray uses high-quality dual stay bearing shafts to open and close smoothly and quietly.
Quiet Operation
Creating a quiet listening environment is a vital component in enjoying music. The DP-1000 uses an outer rotor brushless DC motor to rotate discs. No mechanical contacts results in a highly reliable motor with such low vibration and operating noise that the quiet listening environment it creates will make you completely forget that you are in the presence of a rotating component.
The majority of parts in the DP-1000 are machined from aluminium blocks. These parts are machined on the scale of microns, almost fully eliminating any dimensional errors in assembly for smooth and quiet operation.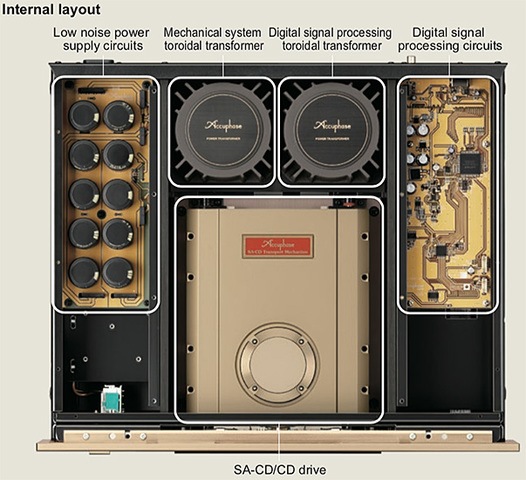 High-rigidity, high-precision aluminum machined SA-CD/CD drive
Low-noise power supply circuits and separate toroidal transformers for mechanical system and signal processing
Programmable playlists so that you can enjoy your music in the order you want
Accuphase voicing equalizer and digital connections
Digital outputs (HS-LINK / COAXIAL)
Low placement of the SA-CD/CD player for a low center of gravity
"Power-on play" that automatically starts playback with a timer (sold separately)
HS-LINK Ver. 1 / Ver. 2 switching
Data disc playback (including DSD discs)
Natural grain wood case with a mirror finish crafted by artisans using carefully selected virgin wood
12 mm thick machined aluminum bottom plate
Advanced high-carbon cast iron insulators
Supplied with HS-LINK cable AHDL-15