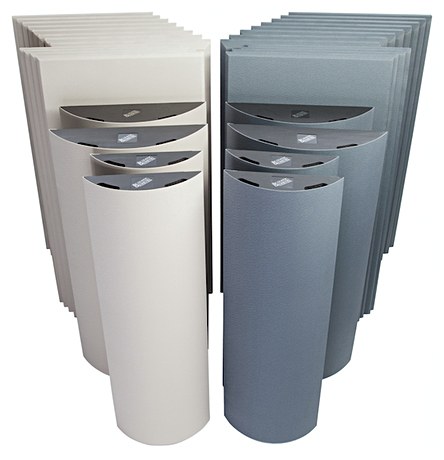 CHASKA, MN | FEBRUARY, 2018 – Acoustic Geometry™ announces the launch of Home Room Packs, a cost-effective grouping of acoustical products designed for residential audio spaces. Delivering better acoustical performance with five different options at discounted price points, these new product packages are a visually-elegant option for any room in the home.
The Home Room Packs were designed to address a range of common residential acoustical challenges. Home Room Packs 1 and 2 affordably reduce echo and reverberation in small spaces. Room Packs 3, 4 and 5 combine broadband sound absorption with industry-leading phase-coherent diffusion.
Room Pack 1 includes a set of six Fabric-Wrapped Panel sound absorbers that improve the sound of smaller rooms, such as family rooms, dens or libraries. Pack 2's addition of four larger and thicker Fabric-Wrapped Panel absorbers make it ideal for controlling sound in small home theaters and medium-size media rooms.
The Small Curve Diffusors included in Packs 3 and 4 evenly scatter sound energy, which results in a distributed sound-field that will greatly benefit medium to large theaters, listening rooms and home studios. Home Room Pack 5 includes Medium and Small Curve Diffusors, making it a great value for larger home theaters, listening rooms and professional applications, like home recording studios and control rooms.
"Our Home Room Packs were created to provide customers with room-improvement solutions that are easy, effective and aesthetically pleasing," says John Calder, retail director, Acoustic Geometry. "Each of the five money-saving packages can positively impact the sound in your home space, depending on its size and application. The Home Room Packs were carefully designed to complement home décor while offering professional quality sound control. We've heard great feedback from our recently introduced Pro Room Packs for the professional audio and recording community and wanted to bring equally-effective product packages to the residential market."
Home Room Packs are available in two 'ship-from-stock' fabric color options, Broadcast Serengeti or Broadcast Graphite, and any of the basic fabric colors, with a slightly longer lead time. Mounting hardware is included for all products in every Home and Pro Room Pack.
Price Range
Home Room Pack 1:   Starting at $270.50
Home Room Pack 2:   Starting at $627.96
Home Room Pack 3:   Starting at $1,185.52
Home Room Pack 4:   Starting at $1,921.82
Home Room Pack 5:  Starting at $2,23.14
About Acoustic Geometry
Acoustic Geometry offers innovative, effective, and affordable acoustic and noise-control products for a wide range of professional audio, residential, and business applications. Acoustic Geometry's best-in-class products will improve the sound of any room. To simplify the creation of natural-sounding acoustic spaces, please visit www.acousticgeometry.com. Videos are available on the Acoustic Geometry YouTube Channel (www.youtube.com/AcousticGeometry).