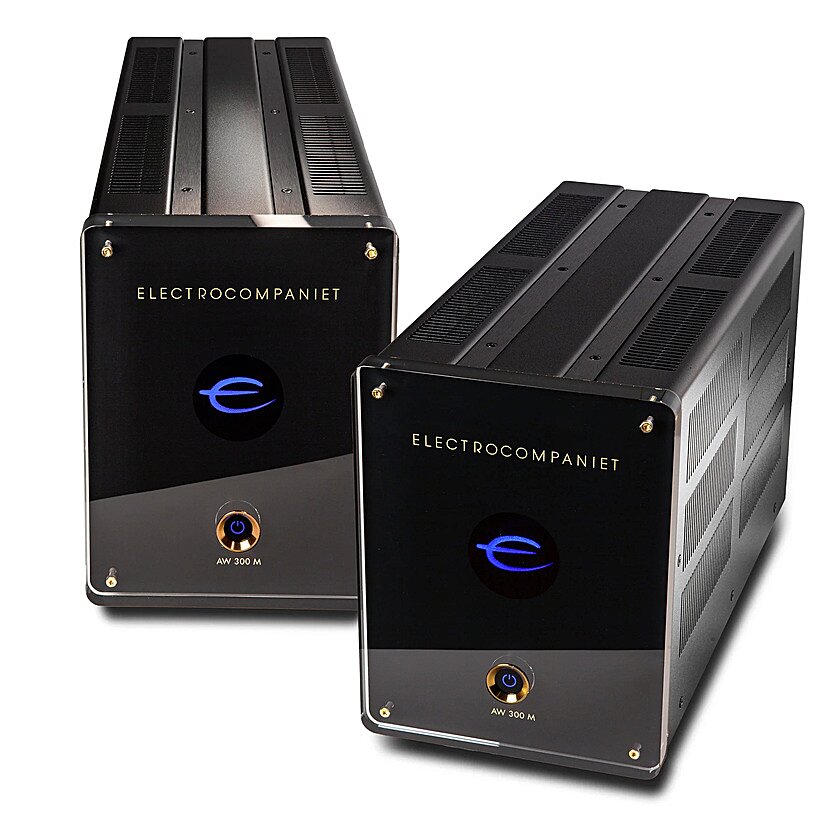 Tau, Norway | 2023 – The AW 300 M is Electrocompaniet's latest Mono Power Amplifier. This amplifier embodies an updated, yet unmistakable Electrocompaniet design, perfectly complementing both current and legacy Electrocompaniet products.
Re-Designed Power Amplification
The AW 300 M boasts Electrocompaniet's direct-coupled high open-loop bandwidth topology, now enhanced with high slew-rate and extended bandwidth amplifier stages. A novel output stage has been engineered to isolate input and driver stages from the load, rendering the output exceptionally rigid and impervious to connected loads. This innovation not only simplifies the feedback system but also ensures exceptionally low distortion.
Power Supply – Heavily Updated
The power supply has undergone substantial enhancements, featuring a generous 110,000 uF supply filtering. Mains power input is meticulously filtered for both DC and RF noise. With an 800VA toroidal transformer and an upgraded wire gauge transformer, magnetic and electrostatic shielding effectively minimizes interference.
The internal ground reference has been significantly over-dimensioned to eliminate rectifying and output currents, yielding an immaculate, noise-free output signal at any power level. This translates into a stable soundstage with an unparalleled background silence.
Improved Construction & Design
The AW 300 M showcases design improvements, including a new front plate with a 3D logo and a redesigned power button. The chassis has undergone a ground-up reengineering, featuring a modular design construction. Two sleek black brushed aluminum rods not only enhance chassis rigidity but also introduce an aesthetic touch. All of this is encased in a luxurious matte finish, upholding Electrocompaniet's timeless and distinctive look.
Experience the future of power amplification with the Electrocompaniet AW 300 M.
Made in Norway
Soundcar® Superspikes™ …
… is an all-in-one spike foot. The unique construction of the SuperSpikes eliminates the most common problem experienced when using a conventional spike: damaged surfaces, while offering the benefits of isolating the equipment from external vibrations in the environment.

Technical Specifications
Input impedance: 330 kΩ
Frequency resp. (in. filter active):0.5 – 220 kHz
Frequency resp. (in. filter dis.): 0.5 – 1.1 MHz
Voltage gain (mono, bal. input): 29 dB (x28)
Input-referred noise (20-20kHz): < 2 μV
SNR (ref. 1W/8Ω load, 20-20 kHz): 95 dB
SNR (ref. full power out, 20-20 kHz): 120 dB
Slew-rate (input filter disabled): 140 V/μs
DC output voltage: < 5 mV
THD+N: 0.0006 %
IMD: 0.001 %
Damping factor (8Ω load): > 1000
Power consumption standby: < 0.5W
Protection: DC, overload, temperature
Rated Output Power Mono:
8Ω load: 300 W
4Ω load: 600 W
2Ω load: 1000 W
Weight & Dimensions:
Width: 212 mm – 8.34 inches
Depth: 488 mm – 19.21 inches
Height: 292 mm – 11.49 inches
*Features and specifications are subject to change without further notice.