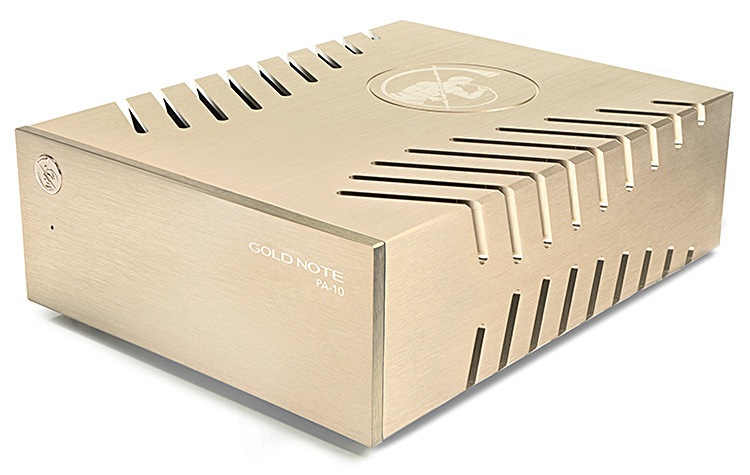 Firence, Italy | 2020 – PA-10 is Gold Note's newest power amplifier of the smaller but not less efficient product range called Series 10. Characterized by great built quality and featuring selected audio components, PA-10 is capable of astounding power compared to its compact size and furthermore offers a wide range of functions such as our unique adjustable damping factor technology that lets you match the amplifier to your loudspeakers perfectly.
SMALL BUT POWERFUL
PA-10 is the new power amplifier of the Gold Note Series 10 that can play either in stereo or in mono (bridged) mode. Characterized by great built quality and an impressive variety of functions, PA-10 is an incredibly versatile power amplifier suitable for any modern High-End system. The aesthetic of the chassis is derived from the other Series 10 products integrating the PA-10 seamlessly into a coherent concept that is inspired by the world-famous Italian style and Gold Note modular design.
The amplifier is composed of a high-quality chassis based of heavy aluminum panels and selected audio components. The idea behind the PA-10 was to design a compact size power amplifier (less than half-width compared to standard Hifi electronics) that would nonetheless be capable of astounding power to drive any kind of loudspeakers. The new great proprietary technology developed for the PA-10 allows the amplifier to act like a Class A amplifier doubling its power while lowering the speaker impedance and thus featuring 75Watt in stereo @ 8 Ω, 150Watt @ 4Ω and 300Watt @ 2Ω, and amazing 300Watt @ 8Ω and 600Watt @ 4Ω in mono mode.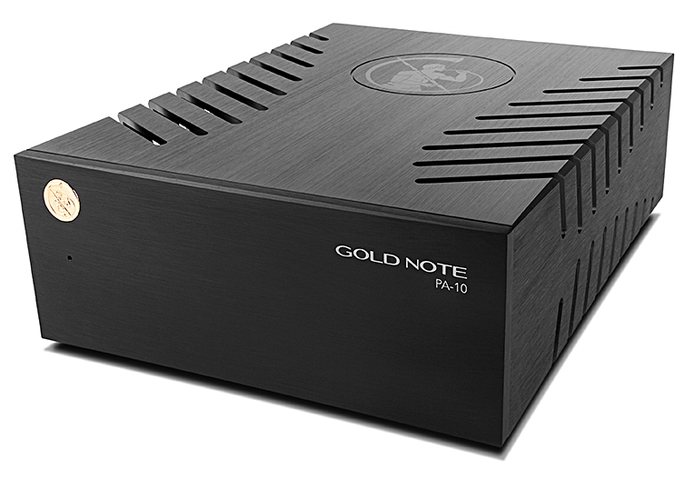 PA-10 distinguishes itself also because of its great versatility applying a lot of the innovations Gold Note has become known for: starting from the adjustable Damping Factor lets you perfectly pairing different kinds of speakers from the most difficult to drive models to high sensitivity and mini monitor providing always the best energy matching.
The Bridge-Tied-Load technology (mono mode) allows PA-10 being a super high power amplifier to virtually drive any speaker of the market, while the XLR stereo output enables the PA-10 to be configured in series for convenient high quality multi room solutions helped by the automatic stand-by mode based on the audio signal received.
The PA-10 comes with both RCA and XLR Inputs. It optionally offers the possibility to be simultaneously connected to two different sources like the Gold Note PH-1000 phono stage with volume control and the DS-10 4-in-1 DAC.
More user friendliness is given with the in-house In/Out GN Link technology which allows putting the amplifier in master-slave-mode with other units with the same feature.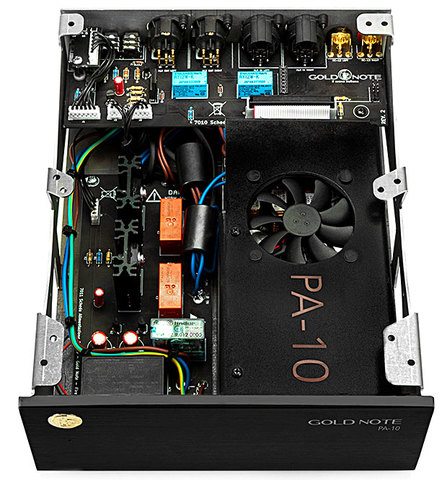 ADVANCED FEATURES
BRIDGE-TIED-LOAD
The PA-10 is a fully balanced amplifier featuring a BTL design (Bridge-Tied-Load) which allows the unit to be easily bridged and work as a mono amplifier doubling its power rate from 75Watt per channel @ 8Ω to a considerable 600Watt @ 4Ω load. Using two PA-10 will increase the performance of your stereo system noticeably. The existing flexibility of the stereo power amplifier could even be largely extended with the mono application for all kind of speakers that require really high power and great energy.
SELECTABLE DAMPING FACTOR
Like the flagship model PA-1175 MKII, PA-10 features a unique adjustable Damping Factor design allowing for an ideal matching with any kind of loudspeakers: PA-10 can drive either large and difficult speakers or high sensitivity and mini-monitor speakers.
GN LINK
The proprietary GN LINK technology allows putting the PA-10 into Master-Slave-Mode with other sources like the DS-10 or a second PA-10. When connected via the GN Link cable, the unit will go in standby mode and will re-activate itself only when receiving a signal from the master unit. The GN Link-Function guarantees major user-friendliness since you will be switching ON/OFF the entire audio chain from one source only.
Suggested retail price: 1390€
Additional Information
POWER OUTPUT
75/150W @ 8/4Ω per ch. in stereo to 600W @ 4Ω per ch. in mono (BTL)
FREQUENCY RESPONSE
10Hz-30kHz at +/-1dB
TOTAL HARMONIC DISTORTION (THD+N)
0,05%

DAMPING FACTOR
selectable high/low
INPUT SENSITIVITY
1,4V RMS on RCA and XLR
INPUT IMPEDANCE
13KΩ RCA/XLR
POWER CONSUMPTION
<1W in standby; <10W no signal; 170W at a 1/4 of nominal power, 1400W max
DIMENSIONS
200mm W x 80mm H x 260mm D

WEIGHT
Kg. 4 net
Kg. 5 boxed
FINISHES
Brushed Aluminium in Black, Silver or Gold