Hongkong, China | 2023 – Lumin U2 Mini Your DAC´s perfect partner!
The first LUMIN to feature our all-new processing system.
WHY LUMIN U2 MINI
Following in the footsteps of one of our most popular models, LUMIN U2 Mini introduces our all-new processing system, delivering greater flexibility and future-proofing.
Capable of upsampling and downsampling all the way from 44.1kHz to 384kHz/DSD256 and supporting playback of DSD512, LUMIN U2 MINI is the perfect streaming partner for your DAC.
Main features
Transport-only LUMIN for combination with an external DAC
The first LUMIN to feature our all-new processing system
Faster processor provides greater resampling flexibility – upsampling and downsampling to every supported format up to DSD256/PCM384 to hit your DAC's sweetspot
Increased capacity for future updates
New surface finish taken from the high-end P1
Quad native clock system for precision timing
5 types of digital audio output including USB
MQA Decoding
Roon Ready
Leedh Processing volume control
Builds on the massive success of U1 Mini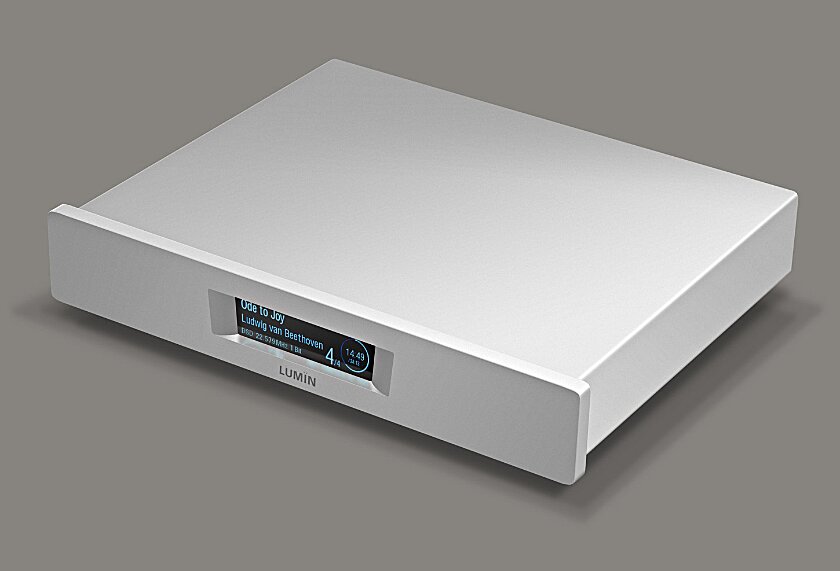 Completely new processing hardware and software deliver improved features and increased resampling flexibility while retaining all the musicality that was noted in so many outstanding U1 Mini reviews.
Key hardware features carried over from U1 Mini include the quad clocking system and 5 different digital outputs with USB now capable of up to DSD512!
The new model is also finished in a new silky surfacing process taken from our high-end P1 that is less susceptible to finger marks and easier to clean.All the usual LUMIN refinements.
All the usual LUMIN refinements
From MQA to DSD, FLAC to WAV, LUMIN can play all the high-resolution formats you could ever want
Native support for TIDAL, Qobuz, Spotify and AirPlay, giving you access to tens of millions of songs
The unique and intuitive LUMIN App described as "fantastically intuitive and easy to use" by What Hi-Fi
LUMIN programme of continuous development that has seen Apple Silicon Mac support, TIDAL Connect, FLAC Lossless Radio and TIDAL Suggested/Related tracks added in 2021 alone.
Supported Streaming Services

LEEDH Processing digital Volume Control
Specifications
U2 MINI SPECIFICATION
NETWORK PLAYBACK:
Up to DSD512
Up to 768kHz, 16–32-bit, Stereo
MQA Decoding
UPSAMPLING RATES & BIT DEPTHS:
DSD256 upsampling option for all files
PCM 384kHz upsampling option for all files
DIGITAL OUTPUT STAGE:
USB:
Native DSD512 support
PCM 44.1–768kHz, 16–32-bit, Stereo
OPTICAL, COAXIAL RCA, COAXIAL BNC & AES/EBU:
DSD64 (DoP64, DSD over PCM)
PCM 44.1kHz–192kHz, 16–24-bit
POWER SUPPLY:
Internal shielded 100–240V AC auto-ranging
PHYSICAL:
FINISH:
Black anodised aluminium
Raw anodised aluminium
SIZE AND WEIGHT:
300mm (W), 244mm (D), 60mm (H), 2.5kg
PACKAGING:
470mm (W), 340mm (D), 170mm (H), 4.5kg

´