Binghamton, NY | 2021 – McIntosh has been in the market for more than 70 years and has since been known for its prestigious home entertainment offerings. Now, the company has unveiled a new Bluetooth transceiver that also aims to deliver the ultimate in audio quality.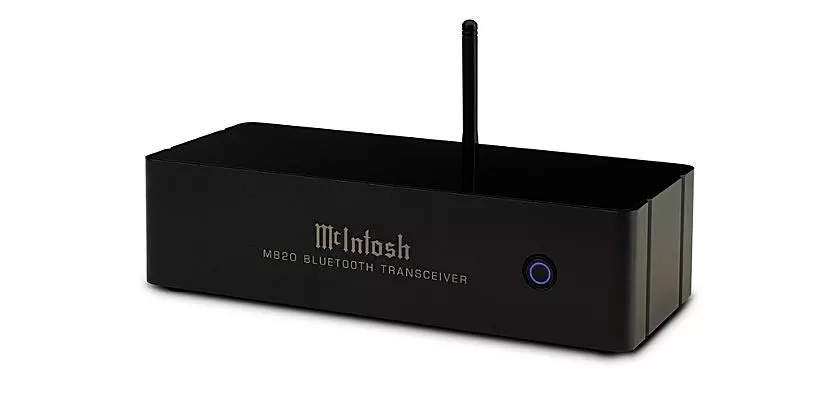 A small Bluetooth transceiver for any music system
The MB20 Bluetooth Transceiver is a simple and straightforward solution for equipping any home audio system with McIntosh-quality Bluetooth® streaming capabilities. It doesn't matter if it is a system from McIntosh itself or another. All music systems can be operated with the transceiver.
The device itself is not much bigger than a smartphone. It can be used as a transmitter or receiver and is said to be able to make excellent Bluetooth connections, according to the manufacturer. McIntosh categorizes the MB20 as a Class 1 transmitter, which means a range of up to 45 meters should not be a problem. As a receiver, it is part of Class 2.
A variety of inputs and outputs are included
For maximum connectivity, the MB20 has been equipped with several analog and digital inputs and outputs. The mostly balanced interfaces are said to be compatible with almost all home audio systems and provide high-quality audio connections. A coaxial input and output for use with a digital-to-analog converter (DAC) is also on board.
The McIntosh MB20 Bluetooth transceiver features Bluetooth 5.0 technology and also supports high-bit-rate Advanced Audio Coding (AAC). Qualcomm aptX Low Latency provides for improved audio transmission speed. For receiver use, the MB20 uses a powerful 32-bit DAC with internal 192kHz processing. This guarantees optimal sound quality.
If the Bluetooth transceiver is used with a separate DAC, the MB20's digital output is set to 96 kHz. This maximizes performance, ensures third-party compatibility. ADC and SNR of 110 db are also included in the transmitter mode.
Prices & Availability
The McIntosh MB20 Bluetooth transceiver can be purchased from authorized dealers in the USA and Canada for around 500 US dollars starting in May. In the rest of the world, sales will start shortly thereafter.
About McIntosh
McIntosh Laboratory, Inc. was founded in 1949 and is known for providing quality audio products and outstanding customer service. All McIntosh products are handcrafted in the Binghamton, NY factory by over 150 employees with a passion for music and the McIntosh heritage.
McIntosh continues to define the ultimate home entertainment experience for discerning consumers around the world, with the iconic "McIntosh Blue" watt meters recognized worldwide as a symbol of quality audio. Since its inception, McIntosh has powered some of the most important moments in music history and pop culture.
From President Lyndon Johnson's Inauguration speech to Woodstock to the Grateful Dead's famous "Wall of Sound," McIntosh has not only witnessed history, but shaped it.
Contact
McIntosh Laboratory Inc
www.mcintoshlabs.com