Binghamton, NY, USA | October 2021 – McIntosh, the global leader in prestigious home entertainment and ultimate-quality audio for over 70 years, is proud to introduce the MI1250 12-Channel Power Amplifier. The versatile McIntosh MI1250 12-Channel Amplifier can distribute pristine music playback in multiple rooms in a home. It delivers 50 Watts into 8 Ohm speakers or 90 Watts into 4 Ohm speakers via highly sophisticated closed loop digital switching amplifiers that are paired with extremely robust power supplies to produce performance levels that are rarely achieved in distributed audio.
The MI1250 has installer-friendly physical dimensions and is 2U rack mountable via the included mounting ears (the mounting ears are removable for non-rack installations). As a highly efficient Class D amplifier, it does not require noisy cooling fans to maintain nominal operating temperature.
On the front panel, multi-color LED indicators display the status of each channel. On the back are unbalanced inputs plus 2-pole Phoenix style push-in speaker terminals for each channel. Also located on the back are volume controls for volume balancing, along with 2 digital audio inputs (either coax or optical) that can be bussed, and channel summing circuits for easy mono signal distribution.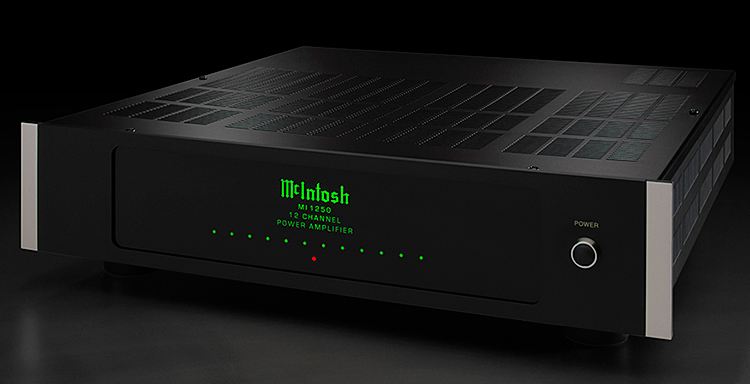 Other features included on the MI1250 are:
• Power Guard® signal overload technology that prevents overdriving the speakers.
• Sentry Monitor™ short-circuit protection circuit that disengages the output stage before current exceeds safe operating levels and then resets automatically when operating conditions return to normal.
• BUS input and outputs to easily distribute a stereo signal to multiple outputs and/or multiple amplifiers.
• Individual channel inputs.
• 12 Volt triggering capabilities to automatically turn other connected McIntosh components on and off.
• Eco-friendly on/off signal sensing that turns the unit off if no input signal has been detected for a set amount of time or automatically turns the amp on when it senses a signal.
The MI1250 includes many McIntosh design cues including a black glass front panel housing an illuminated McIntosh logo, along with a familiar form factor that is highlighted with silver trim. Contact a local McIntosh dealer to learn more about integrating the MI1250 into a custom whole house audio installation.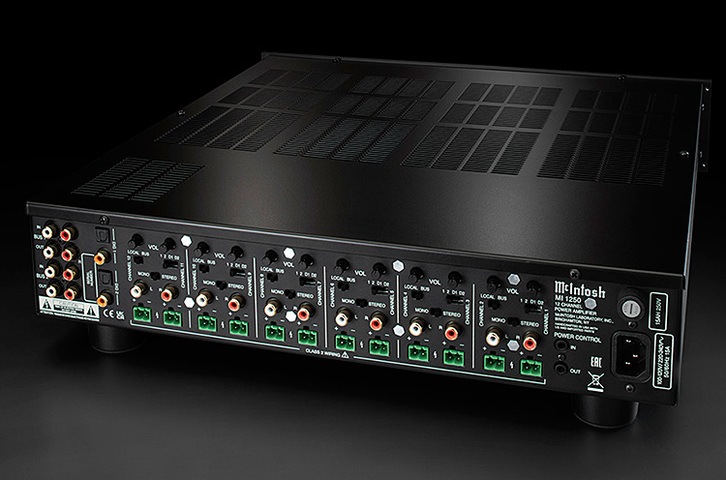 Pricing and Availability

Orders for the MI1250 can now be placed with Authorized McIntosh dealers with shipping expected to begin in late October or early November 2021 to the United States and Canada, and to the rest of the world shortly thereafter.
Suggested retail price (VAT, shipping and any customs duties related to current standards of individual countries are excluded): $4,000 USD.
About McIntosh

Founded in 1949, McIntosh Laboratory, Inc. is known for offering distinguished quality audio products, superior customer service and the ultimate experience in music and film. All McIntosh products are handcrafted at the Binghamton, NY factory by over 150 employees with a passion for music and the McIntosh heritage. McIntosh continues to define the ultimate home entertainment experience for discriminating consumers around the world, with the iconic "McIntosh Blue" Watt Meters globally recognized as a symbol of quality audio. Since its inception, McIntosh has been powering some of the most important moments in music history and pop culture. From President Lyndon Johnson's inauguration speech to Woodstock to the famous Grateful Dead "Wall of Sound," McIntosh has not only witnessed history, it has shaped it. With McIntosh, customers have the ability to create their own premium audio experience – and truly live their music. Visit www.mcintoshlabs.com to learn more.