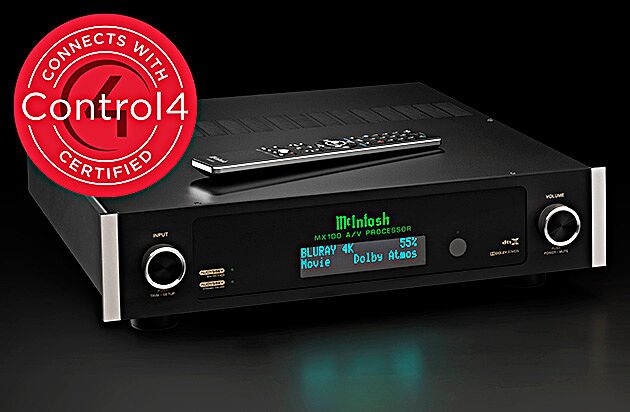 Binghamton, NY, USA | 2022 – McIntosh is pleased to announce that its MX100 A/V Processor has implemented Simple Device Discovery Protocol (SDDP) and has received Connects with Control4 Certification from Control4®, the smart home brand for Snap One.
To work with a Control4 system, the MX100 needs to be using firmware version 2.134 or higher; if it is using a lower version then it will need to be updated by an authorized McIntosh dealer. Then the installer simply needs to add the MX100 to a Control4 system and the controller will recognize it. The correct driver will then be automatically downloaded from Control4 and the MX100 will be installed in the system.
Control4 is a leading automation system for homes and businesses, offering a personalized and unified smart home system to automate and control connected devices including lighting, audio, video, climate control, intercom, and security. Products embedded with SDDP are automatically discoverable by the Control4 platform for easy integration into automated systems. Integrators benefit from SDDP in the MX100 A/V Processor in many ways, from reduced installation complexity, configuration time, and costs in Control4 projects, making it a seamless addition for media room, audio, and other systems. Audio is a key part of the Control4 experience, with native support for most streaming services, and high-resolution audio. With Control4 OS 3, all of the devices in a media room, home theater, or whole home including audio components, speakers, and services are united for simple control from Touchscreens, remotes, keypads the Control4 app, and more.
"We're delighted to add Connects with Control4 Certification to the already custom install friendly MX100," said McIntosh President & CEO Charlie Randall. "Many of our other A/V Processors have received Control4 Certification and dealers, installers, and customers have been happy with how easy they can integrate into Control4 automation systems. We're excited to bring this user experience enhancement to the MX100."
"With SDDP, Control4 customers who choose the McIntosh MX100 A/V Processor benefit from faster installation time and a seamless control experience in their entertainment system," said Noel Gouff, Vice President of Business Development, Snap One. "The processor adds to over 7,500 products in our SDDP ecosystem, enabling product choice, smooth installation, and seamless integration."
The MX100 offers unparalleled McIntosh performance in a streamlined design offering users all they need to enjoy all their favorite 4K and HD programming. The 11.2 channel unit is designed for modern home theaters needing only digital inputs that don't require legacy analog inputs and is well suited for installation in a discrete A/V equipment rack with rack-friendly 2U physical dimensions and removable rack mounting brackets. The MX100 has (4) HDMI inputs, (1) HDMI output and supports a variety of leading home theater technologies including Dolby Atmos and DTS:X; HDR formats Dolby Vision, HDR10 and HLG; 4:4:4 color spacing; Rec. 2020; 3D video pass-through; and Enhanced Audio Return Channel (eARC).
The MX100 is available through Authorized McIntosh Dealers with an MSRP of $5,500 USD.

ABOUT MCINTOSH

Founded in 1949, McIntosh Laboratory, Inc. is known for offering distinguished quality audio products, superior customer service and the ultimate experience in music and film. All McIntosh products are handcrafted at the Binghamton, NY factory by over 150 employees with a passion for music and the McIntosh heritage. McIntosh continues to define the ultimate home entertainment experience for discriminating consumers around the world, with the iconic "McIntosh Blue" Watt Meters globally recognized as a symbol of quality audio. Since its inception, McIntosh has been powering some of the most important moments in music history and pop culture. From President Lyndon Johnson's inauguration speech to Woodstock to the famous Grateful Dead "Wall of Sound," McIntosh has not only witnessed history, it has shaped it. With McIntosh, customers have the ability to create their own premium audio experience – and truly live their music. Visit www.mcintoshlabs.com to learn more.

About Snap One
Established in 2005 and based in Charlotte, North Carolina, Snap One is a manufacturer and exclusive source of A/V, security, control, networking and remote management products for professional integrators. Control4 is Snap One's premier brand for automation and control. Snap One is an industry leader in the pro-install channel and helps integrators build their businesses by providing a wide range of high-quality products, easily accessible through an intuitive website and backed by award-winning service and support. With a vast catalogue of today's most popular brands, Snap One is the premier choice for professional installers across the globe. With over 30 local branches in the US and two in Canada, Snap One blends the benefits of e-commerce with the convenience of same-day pickup. Additional information about Snap One and its products can be found at www.SnapOne.com.