2017 – The Classic SB New Product Announcement
We are pleased to announce the launch of Pro-Ject Audio Systems' The Classic SB turntable. We have turbocharged our EISA Award-winning the Classic to bring you this upgraded package.
The Classic SB is an upgraded version of The Classic – EISA award-winning turntable.
Featuring a Sumiko Blue Point No.2 cartridge, the Classic SB offers a leap forward in sound quality. Other key improvements include electronic speed control, as well as the Leather It mat and top-grade Clamp It, which enhance stability and reduce noise.
The Classic SB combines timeless aesthetics with innovative high-end technology
Using a compact, simple, and elegant form factor, The Classic SB is an homage to the traditional wooden-frame design established by the famous turntable manufacturers of the 50's and 60's.  With the combination of an improved belt-drive design and a low-noise AC synchronous motor, the high precision DC-driven frequency generator provides ultimate speed stability at both 33 and 45 rpm. A technologically advanced metal and MDF sub-chassis is suspended by TPE balls to effectively decouple the completely redesigned 9" carbon fiber and aluminum composite tonearm and TPE-dampened aluminum platter from ambient vibration.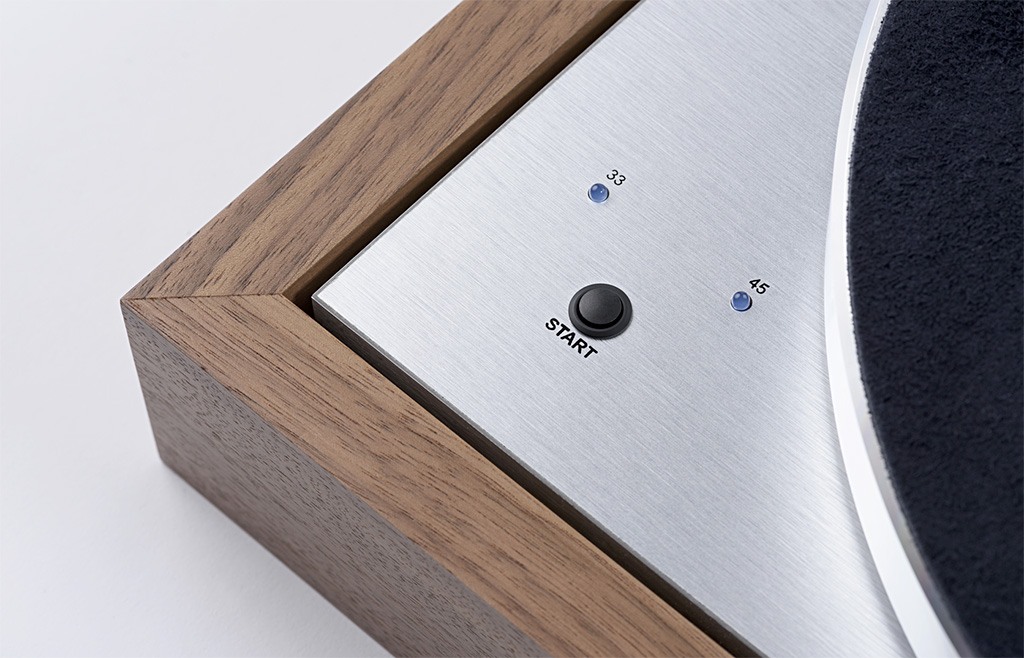 • New! Electronic Speedcontrol (33/45 rpm)
• New! Sumiko Blue Point No.2 cartridge 
• New! Top grade Clamp It included
• New! Leather It mat included
• Height adjustable decoupling feet
• Precision balanced, TPE*-dampened aluminum platter w/ felt mat
• Metal/MDF sandwich chassis floating on TPE* suspension
• 9" carbon fiber/aluminum tonearm with MM & MC capability
• Precision Japanese ball bearing at base of tonearm
• Integrated central vertical cable outlet for unhindered arm movement
• Ultra low-friction Zircon pinpoint cardan tonearm bearings
• Azimuth and VTA both fully adjustable
• TPE-dampened counterweight with chrome finish
• Classic wooden chassis available in 3 matte finishes: Walnut, Rosenut, and Eucalyptus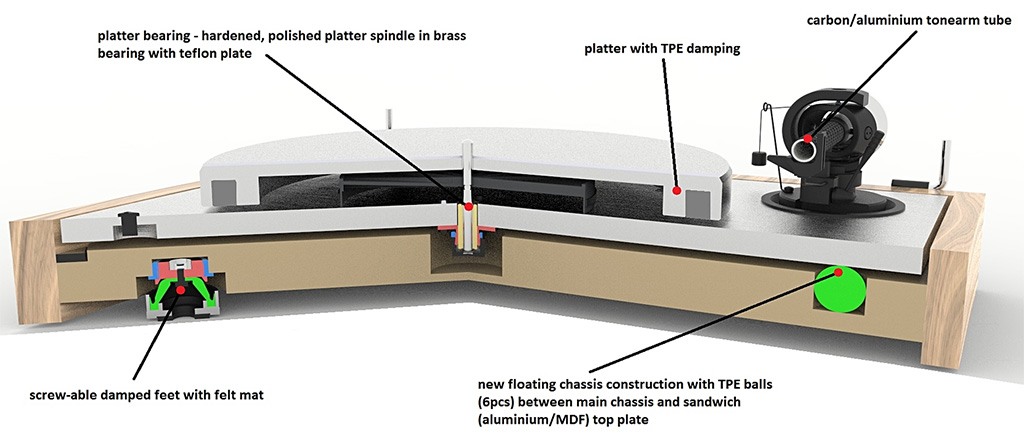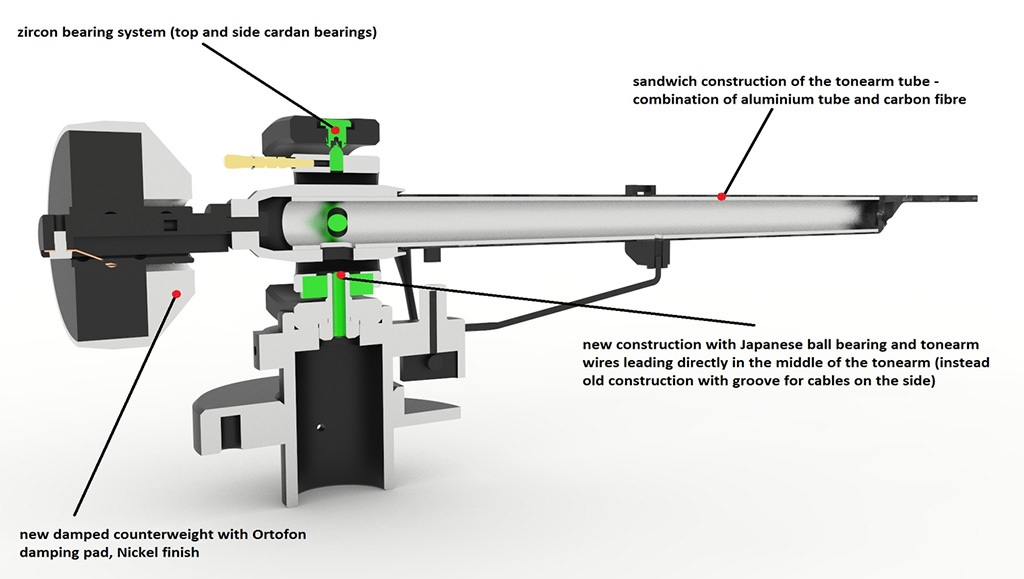 The Classic SB is loaded with key new features, including:
Electronic Speed Control
Sumiko Blue Point No.2 cartridge ($450)
Top grade Clamp It record clamp ($99)
Leather It mat ($59)
With over $600 of improvements, The Classic SB retails for only $400 more than its brother, offering a huge improvement in sound quality!
The Classic SB comes in three finishes (Walnut, Rosenut, and Eucalyptus).
TECHNICAL SPECIFICATIONS
Speed: 33 & 45 rpm (manual speed change)
Drive Principle: belt drive
Platter: 300mm aluminum, TPE-dampened
Mains Bearing: mirror-polished stainless steel
Wow & Flutter: 33: ± .11 % 45: ± .10 %
Speed Variance: 33: ± .15 %  45: ± .12 %
Signal to Noise Ratio: 70 dB
Tonearm: 9" carbon/aluminum composite tonearm
Effective Arm Length: 230 mm
Effective Arm Mass: 13.5 g
Overhang: 18 mm
Tracking Force Range: 1.0 – 3.0 g (10 – 30 mN)
Included Accessories: 15 V(DC) / 1.6A power supply, dust cover
Power Connection: 110-120 V(AC) @ 60 Hz
Power Consumption: 5 watts (max)  •  < 0.5 watt (standby)
Dimensions (WxHxD): 18.1" x 5.2" x 13.8" (460 x 131 x 351 mm) (lid closed)
Weight: 22.5 lbs. (10.2 kg) net
Retail price: $1,499.00
The Classic SB is in stock, boxed, and ready to spin your favorite music! Contact your Pro-Ject USA representative if you have questions or are ready to place your order.
About Pro-ject Audio Systems
Pro-Ject Audio Systems was founded by one of Austria's leading high-end audio distributors, Heinz Lichtenegger, in early 1991. A genuine music lover and a dyed-in-the-wool audiophile, Heinz challenged the common "cost-no-object" approach to analog audio equipment by manufacturing turntables, tonearms, and accessories at a reasonable price without compromising build quality or sonic performance.
With his passion for high-end audio fueling a desire to take a familiar industry in a new direction, Heinz proceeded to use Pro-Ject Audio Systems as a locomotive to bring high-end gear to the masses. Since then, Pro-Ject has been steadily gaining steam to assert itself as one of the most respected names in affordable, audiophile-grade analog gear.
In 2007, Pro-Ject Audio officially launched Box Designs, a subdivision of the company dedicated to redefining the concept of audio electronics once again. Focusing on a small form factor that could easily integrate into any lifestyle, Heinz was able to pack the same sophisticated circuitry found in traditional high-end audio components into a box a fraction of the size.
By adhering to that philosophy while still only using quality electronic components that deliver sound that far exceeds their stature, the engineers at Pro-Ject redefined what is possible in high-end audio and proven that great things do come in small packages.