Sofia, Bulgaria  | 2022 – Our company created new conceptual R2R DAC based on legendary chip AD 1865. This DAC, like all our products, is built on the basis of our philosophy: Perfection is in simplicity. In the electronic architecture, we use short signal path, no capacitors in signal path, output transformers in dac analog  output. This DAC works in NOS mode without digital filter, due to which the sound is more natural and analog. When the DAC works in NOS mode, the phase and time distortions are reduced to minimum. After many experiments and studies, we have removed redundant digital inputs and switches that negatively affect the sound. In our DAC we use only USB input, realized with the best sounding XMOS converter from JL sounds. You can listen fails with 32bit /384Khz resolution with phenomenal quality, because all redundant bits are removed by software (no standard used hardware delay). We designed special PCB for our DAC with short signal digital and analog pats. All electronic components are high quality. As analog LPF filter, we use output transformers with 1:1 ratio with low THD, noises and phase shifts. All signal pats are silver wired.
The sound
This DAC plays phenomenal clean Jazz, Rock and Classic music. The sound stage is deep, clean and focused. Bass? The bass is heavy and punch without booming. The female vocals are solid without any frills. The lack of grain and sharpness in the high frequency register, makes the sound of this DAC very close to that of LP. This R2R DAC is intended for that part of audiophiles who sit down every night with a glass of quality whiskey and listen to their favorite music. This digital product plays perfect FLAC format and CD format with incredible ease and tonal fidelity.
Power supply
The power supply is very important for the correct operation of the digital device, and any disturbance in the operation of the power supply leads to a deterioration of the sound quality. For this reason, we use battery power supply with separate low nose linear charger. The rectifier is realized with SIC Schottky Diodes. The DAC section is powered with three low noises LDO stabilizers from LT and Texas Instruments. The USB converter PCB uses low noise LDO with under 20μV, which powered the galvanic isolation.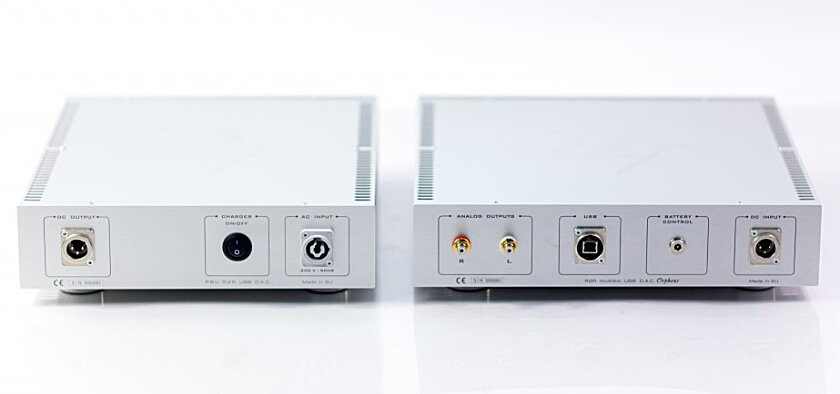 Technical data:
Frequency response: 10Hz – 180kHz
Output level: 2,1Vp-p
Output impedance: 10kOhm
Digital outputs: 1 USB
Analog outputs: 1 RCA
Resolution: 32 bit/384Khz
Audio formats: FLAC, WAV, APE, MP3
Dimension DAC section: 330 mm x 330 mm x 80 mm
Dimension PSU section: 280 mm x 330 mm x 80 mm