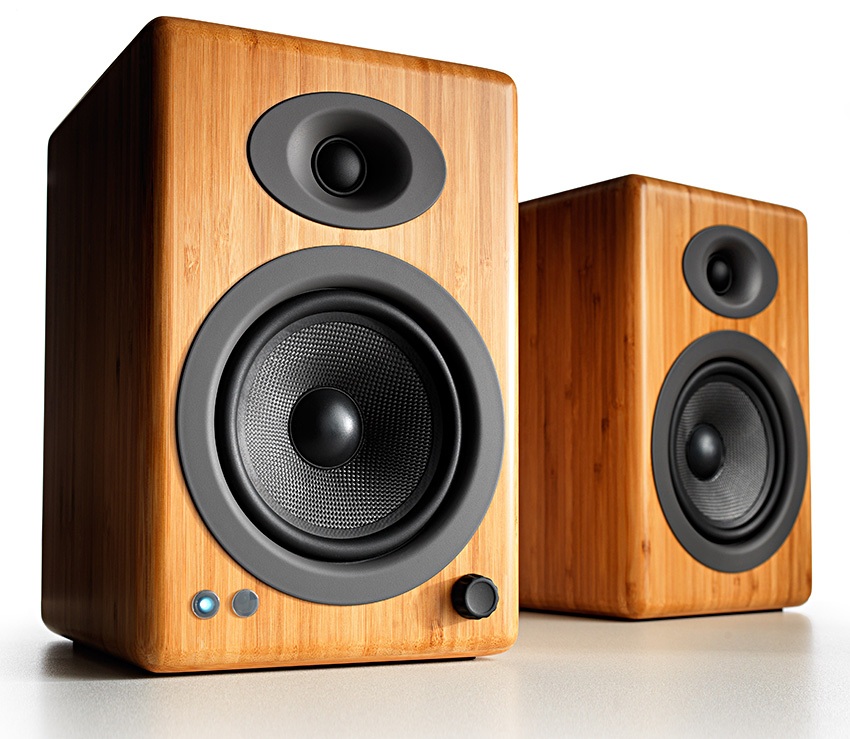 AUSTIN, Texas | March 6, 2018 – Audioengine® has announced the A5+ Wireless Music System. The Audioengine 5+ Wireless is an exciting evolution of the award-winning A5 speakers that changed the way we listen to music.
Classic Audioengine sound now with wireless streaming
With upgraded aesthetics and A5+ signature sound, A5+ Wireless isn't just a pair of powered stereo speakers but a smart music system that works with Alexa, Siri, and all other voice activated apps, speakers, and devices – as well as every music app on the planet.
Life is complicated. Listening to your music shouldn't be.
Easy setup with wireless that works
The A5+ Wireless eliminates the need for a stereo receiver or separate power amp. And setup takes just a few seconds with no apps to download and no wifi hassles. Tidal, Spotify, Pandora, and all your favorite streaming apps play instantly from your phone, tablet, and computer.
Hear the difference
The A5+ Wireless delivers the audio performance and thoughtful design expected from Audioengine. Experience stunning stereo sound with aptX-HD, 24-bit upsampling DAC, and extended wireless range.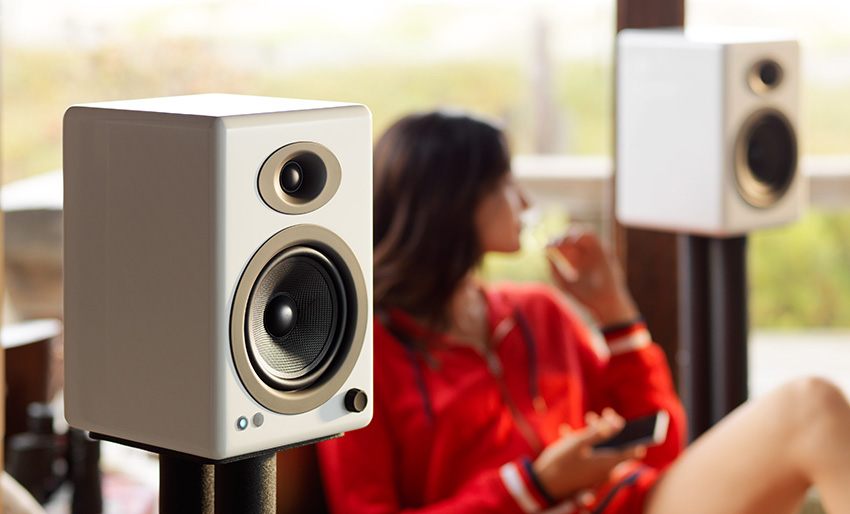 Audioengine 5+ keeps getting better
Small speakers with big sound to fill any room
Built-in power amps and hand-built wood cabinets
Custom Kevlar woofers and silk tweeters
High-fidelity Bluetooth® aptX®-HD wireless
No network setup, no app downloads, no hassle
Inputs are always ready to go, no buttons to push
Front panel volume and metal remote control
Subwoofer connection
Available in satin black, gloss white, and solid bamboo.
Pricing and availability
The Audioengine 5+ Premium Wireless Music System starts at $499 and can be purchased from over 400 authorized worldwide resellers or online direct at: audioengineusa.com
Features
Built-in analog class A/B monoblock power amplifiers
Solid aluminum remote control
High-fidelity advanced Bluetooth® with aptX®, simplified setup, extended range, and 24-bit upsampling
RCA and mini-jack audio inputs
Front panel volume control
Variable preamp audio output
Gold-plated connectors
Full-size 5-way speaker binding posts
Custom Kevlar woofers and silk tweeters
Hand-built MDF wood cabinets
Magnetically shielded
Advance tuned cabinet with rear-ported waveguide
Stand-mount 1/4″ threaded inserts
Works with
Mac, PC, tablets, or smartphones
Any operating system (Windows, MacOS, Linux, iOS, Android)
Any music player app or streaming service (iTunes, TIDAL, Youtube, Amarra, etc.)
Any product with Bluetooth, mini-jack, or RCA outputs (TV, Apple TV, network streamer, etc)
All Audioengine digital-to-analog converters and wireless audio adapters
Finish options
Black Satin Paint
Hi-Gloss White Paint
Solid Natural Bamboo
Materials and Construction
1/2" (13mm) thick MDF cabinets
5" (130mm) Kevlar woofers with advanced voice coils
3/4" (20mm) silk dome tweeters with neodymium magnets
Torroidal power transformers
About Bluetooth® and aptX®
Our Bluetooth products easily connect to any of your devices that have Bluetooth, but to get the best sound possible we recommend using a device that supports Bluetooth aptX. Find out more about aptX here: csr.com/products/aptx
And if you're looking for a new smartphone, tablet, or computer with aptX or want to look up your device and see if it supports aptX, go here to check out what's available: aptx.com/products/browse/categories
For iPad or iPhone users that don't have aptX, don't despair! MacOS (MacBook, iMac, Mac mini) includes Bluetooth aptX, however if you use an iPhone or iPad, Apple uses the AAC codec and doesn't support aptX. AAC sounds really good as well and you'll also get the extra benefit of our upsampling 24-bit DAC, so you won't be disappointed by the sound quality if you use an iOS device with any of our Bluetooth products.
General specifications
Type
2.0 powered (active) bookshelf-style speaker system
Power Output
150W peak power total (50W RMS / 75W peak per channel), AES
Inputs
3.5mm stereo mini-jack, RCA L/R
Input Voltages
115/240V, 50/60Hz manually switchable
Amplifier Type
Dual Class AB monolithic
Drivers
5″ Kevlar woofers, 3/4″ silk dome tweeters
SNR
>95dB (typical A-weighted)
THD+N
<0.05% at all power settings
Crosstalk
-50dB
Frequency response
50Hz-22kHz ±1.5dB
Input impedance
10K ohms unbalanced
Protection
Output current limiting, thermal over-temperature, power on/off transient protection, replaceable external main fuse
Power Consumption
Idle: 10W
Mute: 6W
Sleep: 4W
Bluetooth specifications
Internal D/A converter
AKM AK4396
Input bit depth
24-bits upsampled
Bluetooth receiver type
Bluetooth 4.0 audio
Supported codecs
aptX, AAC, SBC
Wireless operation range
Up to 100ft (30m) typical
Input data rate
Determined by Bluetooth
Wireless latency
~30 milliseconds (ms)
Weights and measures
Dimensions (each speaker HWD)
Left – 10.75″ (27cm) x 7″ (18cm) x 9″ (23cm)
Right – 10.75″ (27cm) x 7″ (18cm) x 7.75″ (20cm)
Weight (LEFT speaker)
15.4 lbs (7 kg)
Weight (RIGHT speaker)
9.6 lbs (4.4 kg)
Shipping weight
31 lbs (14 kg)
Shipping box dims
15″ (38cm) x 22″ (56cm) x 11.5″ (29cm)
Finish options
Satin Black Paint
Hi-Gloss White Paint
Solid Carbonized Bamboo
Who (and what) is Audioengine?
We design and build innovative audio gear that works seamlessly with all your favorite gear and streaming services. No matter how you connect and listen, we've got you covered.
Everything is custom designed and built, based on 36 years working in the audio and consumer electronics industries for companies including Harman/Kardon, Gibson Guitar and Apple. Since the release of the original Audioengine 5 in 2006, we've had one goal in mind— building audiophile-quality products that sound great with easy-to-use features.
From prototyping their first set of speakers to the release of the ultra-versatile HD Series, co-founders Dave Evans and Brady Bargenquast create products for the way people listen to music today with the look and feel of classic, old-school audio gear. Whether streaming music from your phone, listening to music while studying in your dorm room, or dusting off the vintage turntable, our products have a place in almost any space.
The song remains the same with Audioengine— we love music. Our passion is to make your music sound as fantastic as it can. Even if you don't consider yourself an audiophile, we guarantee you'll hear the difference!
Audioengine, LLC
6500 River Place Blvd, Building 7, Suite 250
Austin, TX 78730