Houston, USA | 2020 – Troy Audio Hellena MKII!
Our new Hellena MKII loudspeaker now comes with two completely separate enclosures, to dramatically improve the dynamic performance of the drivers and completely eliminate any acoustic interference between them. The bass is deeper and better controlled, and the uncolored midrange sounds as natural as possible.
We have chosen
We now use a crossover with ultra-premium elements manufactured in Denmark by Duelund. This exponentially increases resolution, and translates into an exceptionally warm, silky, natural sound never before produced by any loudspeakers.
The Hellena MKII uses a 604-8E alnico driver made by Great Plains Audio. The 604-E, known as the original reference standard for point-source drivers, approaches transparent sound reproduction possibly more closely than any other transducer.
The 604-E comprises a 15″ (381mm) low-frequency driver and a 1″ (25mm) high-frequency compression driver, both mounted on a single frame 16″ (406mm) in diameter. Each driver is structurally, magnetically, electrically, and mechanically independent of the other.
For the woofer, we use Great Plains Audio's Model 515-C Series Low-Frequency Loudspeaker. Handmade, incorporating a massive alnico V magnetic assembly, and utilizing a relatively light cone assembly, it has deep, fast response.
The bass-reflex enclosure features horizontal ports on the front that honor traditional speaker designs of the late 1940s. Essentially, the ports help to increase efficiency, to generate more bass due to the long excursions of the voice coil—all of which reduces distortion to inaudible levels.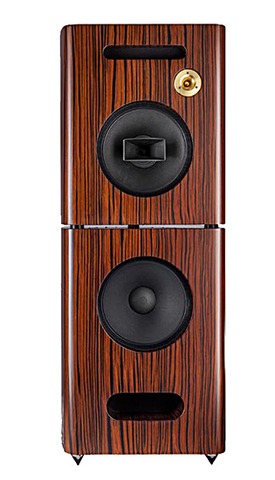 In Greek mythology, Helena represents "the light that shines in darkness"—the highest aspiration to near divine beauty. We believe that our Hellena MKII loudspeaker will change your perception of what the beauty of music can mean.
Designed with the idea of achieving maximum musical emotion.
Creates music with a very wide soundstage, without side or rear drivers.
Impressive macro- and microdynamicsGorgeous curved cabinet.
Available in natural wood veneers; matte or high-gloss finishes.
Customers can also custom-order a variety of other RAL colors and textures, from classic to avant-garde to automotive paint finishes.
Screwless wooden cabinet.
16″ woofer (alnico magnet)
16″ midrange driver with alnico magnet and high-frequency compression driver with custom horn in coaxial configuration
Horn super tweeter (alnico magnet)
Two oversize chambers completely separated in two boxes: one for the woofer, one for the midrange coaxial driver
Custom crossover with ultra premium Duelund capacitors and coils, handmade in Denmark
Sensitivity: greater than 100db