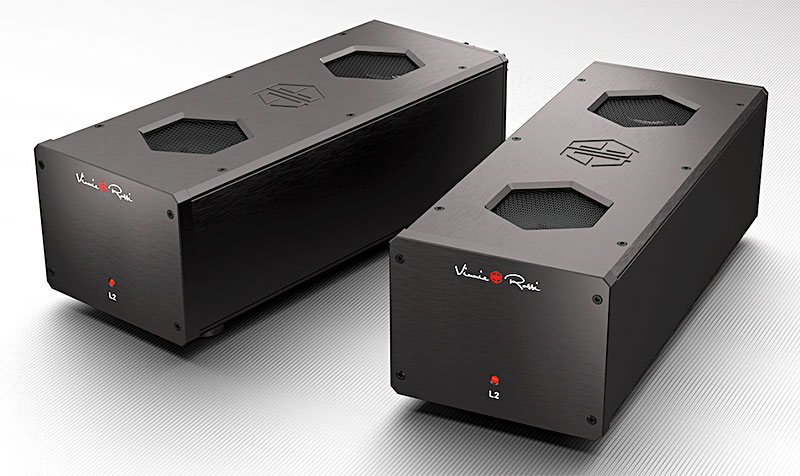 Holden, MA, USA | August 2018 – Vinnie Rossi's new flagship power amplifier design, the L2 Signature Monoblock, draws the listener deep into the music with its completely natural and engaging sound signature.  Its superb linearity over an extended bandwidth recovers the finest nuances and provides a heightened sense of texture, clarity, and spaciousness.  Bass extension and articulation of each and every note is phenomenal, as is L2's sense of speed and dynamic contrasts.
L2 exemplifies simplicity, exceptional build quality, and remarkable finesse with communicating the emotion and passion within the music.  Inside its dense, compact chassis design is a finely-tuned Class AB MOSFET circuit topology powered by a highly responsive linear power supply.
Each L2 Signature Monoblock Amplifier is meticulously hand-built and tested by Vinnie Rossi himself. Its no-compromise construction and use of only the highest-quality components assure the listener will enjoy superior performance for many years to come.
* View the upcoming Vinnie Rossi L2 Signature Preamplifier >>
Features
Ultra-wide bandwidth, Class AB MOSFET topology.
Very short signal and power paths.
Custom-wound, 500VA toroidal power supply transformer.
Over 100,000uF of very low ESR power supply rail capacitance.
12V Trigger Input.
WBT NextGen 0703cu Speaker Binding Posts.
Neutrik RCA, XLR, and 12V Trigger input jacks.
Solid, CNC-machined aluminum chassis.
Designed and manufactured in the USA.
10-year warranty.
Includes custom, military-grade hard travel case for each L2 Signature Monoblock.
Price
$14,995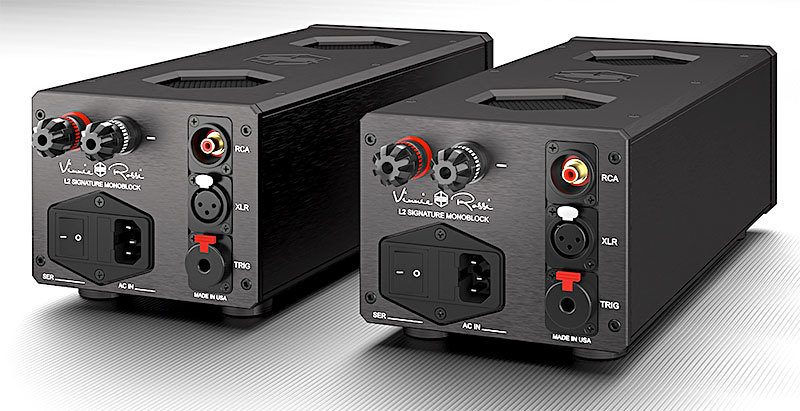 L2 Signature Monoblock Specifications
Output Power:
(Tested with 120Vac input)
75W rms into 8-ohms, 140W rms into 4-ohms (2-ohm stable)
Output Impedance:
Approx. 0.1 ohm
Input Impedance:
100K ohms (RCA and XLR inputs)
Frequency Response:
2Hz – 250kHz (+/- 0.5dB)
0.5Hz – 900kHz (+/- 3dB)
Voltage Gain:
27.5dB
SNR:
100dB (Full output into 8-ohms, from 20Hz – 80kHz)
THD+N:
0.0043% (0.1KHz, 1W into 8-ohm)
0.0058% (1KHz, 1W into 8-ohm)
0.0065% (20kHz, 1W into 8-ohm)
—
0.002% (100Hz, full output into 8-ohms)
0.014% (1kHz, full output into 8-ohms)
0.001% (20kHz, full output into 8-ohms)
0.011% (50kHz, full output into 8-ohms)
12Vdc Trigger Input:
V_min = 9Vdc, V_nominal = 12Vdc, V_max = 18Vdc
Trigger current at 12Vdc = 45mA
AC Input:
Factory configured for 110-120Vac -or- 220-240Vac (50/60Hz)
Power Consumption:
20W (idle), 230W (Full output into 4-ohm)
Protections:
– AC input jack fuse
– MOV (AC input surge protection)
– Speaker output over current
– Over temperature
Dimensions:
5.5″ wide x 14″ deep x 5″ tall (140mm x 355mm x 130mm)
Weight per Monoblock:
20 lbs (9 kg)
35 lbs (16 kg) including travel case