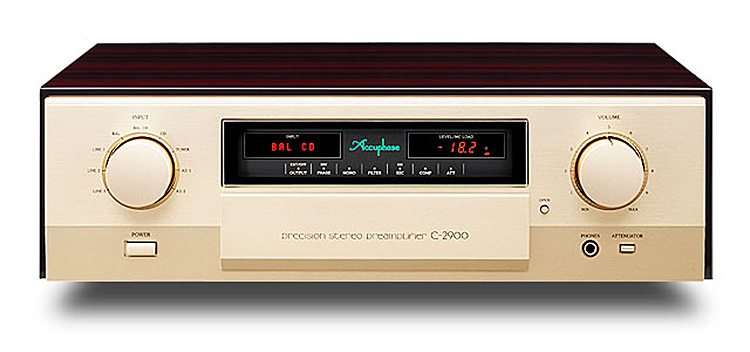 Yokohama, Japan |2022 – Accuphase Precision Stereo Amplifier C-2900 – Balanced AAVA preamplifier with exquisite sound reproduction.
The preamplifier's volume control is a vital component for maintaining vibrancy in the sound source. Since its founding, Accuphase has spent 50 years in pursuit of creating the ideal volume control circuitry. The C-2900's Balanced AAVA system was designed using Accuphase's original AAVA volume control circuits to significantly improve sonic performance. The faithful reproduction of delicate musical performances by the C-2900 makes it the perfect preamplifier for passionate audiophiles.
Balanced volume control, Balanced AAVA

Conventional preamplifiers use variable resistors to adjust volume, which creates grit, causes contacts to deteriorate, and increases noise at normal volume levels. AAVA, however, produces multiple, widely varying signals from the input signal and controls volume by changing the combination of those signals. This achieves minimum noise levels at all volume levels without any grit. The Balanced AAVA principle utilizes two balanced-connection AAVA circuits and reduces noise levels in the C-2900 roughly 20 % over conventional preamplifiers.
Quiet and smooth volume sensor design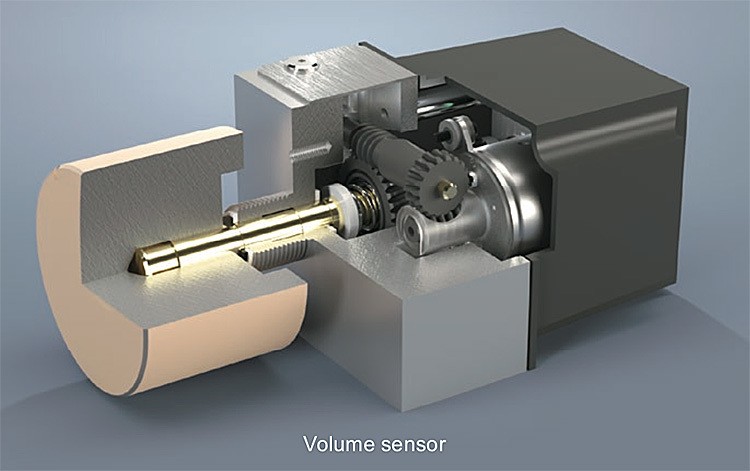 The volume sensor detects the angular position of the volume knob and transmits it to the AAVA circuitry. Accuphase developed this volume sensor in-house, using an aluminum block extrusion process to achieve an utterly smooth and solid operation feel and extremely accurate position detection. Operation sounds are minimal even when using the Remote Commander to ensure an extremely quiet and pleasant listening environment.
Sound quality – In pursuit of the highest quality audio
Separate unit amplifiers for left and right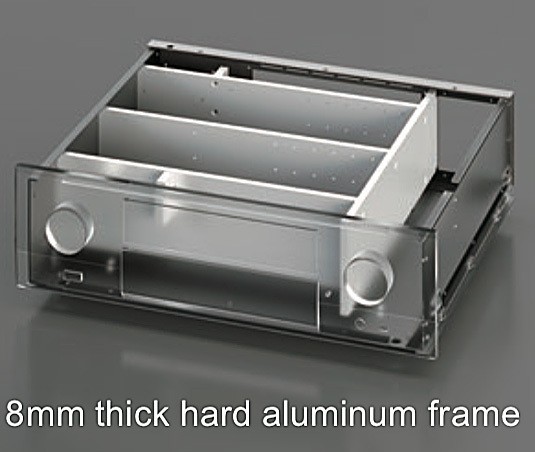 Music signal circuits like the AAVA contain six unit amplifiers for both the left and right channels. The unit amplifiers on the left and right are housed in 8mm thick hard aluminum frames to suppress electrical interference and prevent vibrations from adversely impacting sound quality.
Independent power supplies for left and right channels
The power source that drives the different circuits can greatly affect sound quality. Both the right and left channels feature a high-quality toroidal transformer inside a cast-aluminum case equipped with heat dissipation fins. The two newly developed 10,000 μF high-capacity, high-quality filtering capacitors mounted in each channel supply plentiful power for unimpeded handling of load fluctuations.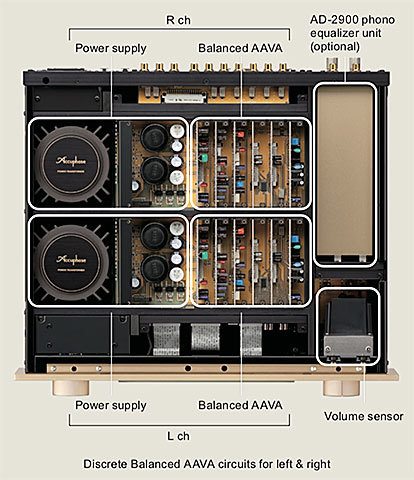 Optional: AD-2900 phono equalizer unit