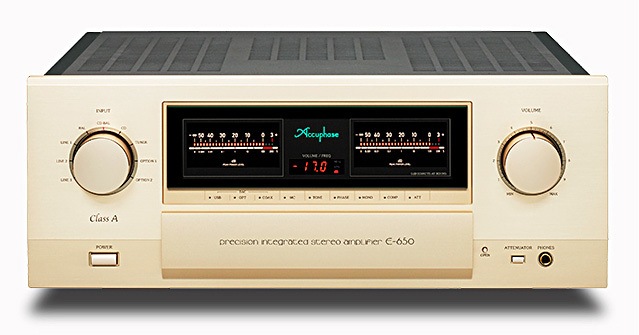 Yokohama, Japan | 2018 – The E-650 is a new addition to the highly acclaimed Accuphase lineup of quality Stereo Power Amplifiers. Innovative engineering and top-grade parts and materials come together in this product featuring the superb Balanced AAVA type volume control and a triple parallel arrangement of power MOS-FETs in the output stage. The power amplifier section employs the latest instrumentation amplifier configuration for balanced signal transmission, resulting in an integrated amplifier with fully balanced configuration from the inputs right through to the output. The massive power supply and low-impedance output circuitry deliver 150 watts per channel (into 1 ohm, with music signal) and a damping factor of 800.
Balanced AAVA volume control
As a first in an integrated amplifier, the E-650 features the sophisticated Balanced AAVA type volume control incorporated in Accuphase's top-of-the-line preamplifier model C-3850. Balanced AAVA uses two AAVA circuits driven in a fully balanced configuration. This completely cancels out any external noise and results in unsurpassed S/N ratio.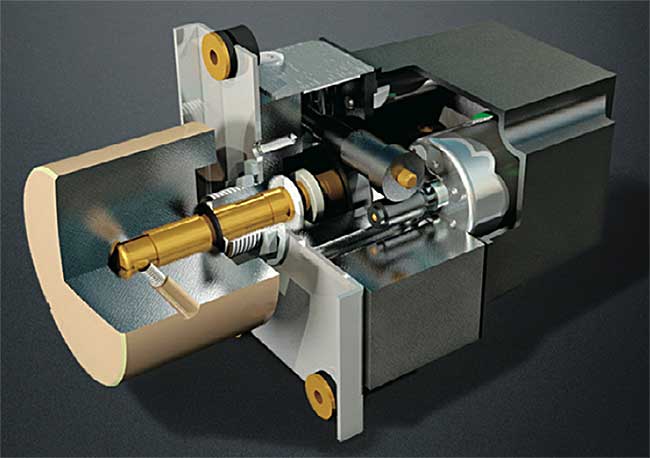 High-accuracy, high-rigidity volume sensor construction with massive yet responsive feel
AAVA uses a volume control knob that looks similar to conventional controls. How- ever, Accuphase also paid careful attention to volume sensor construction. The rotary mechanism is assembled with high accuracy and mounted to a highly rigid frame extruded from a single aluminum block. The solid brass shaft has a diameter of 8 mm and gives a pleasingly massive yet responsive operation feel to the volume knob. Floating suspension technology developed by Accuphase for its SA-CD/CD players is used to
mount the volume sensor mechanism to the main chassis. Furthermore, utterly smooth and quiet operation is assured also when adjusting the volume with the remote commander, thanks to insulators that dampen any vibrations of the drive motor.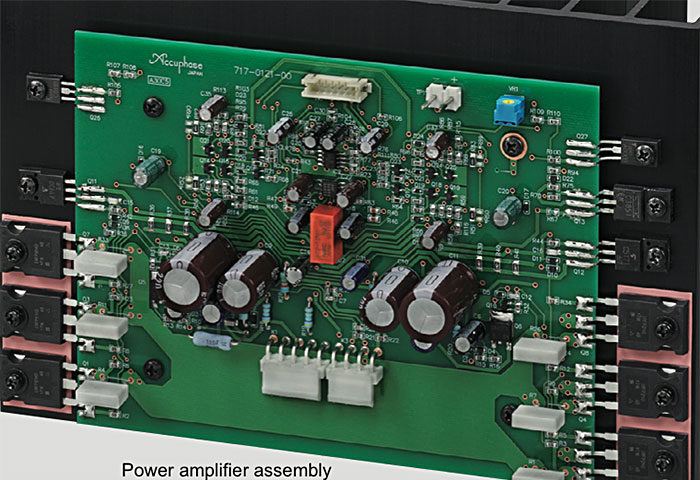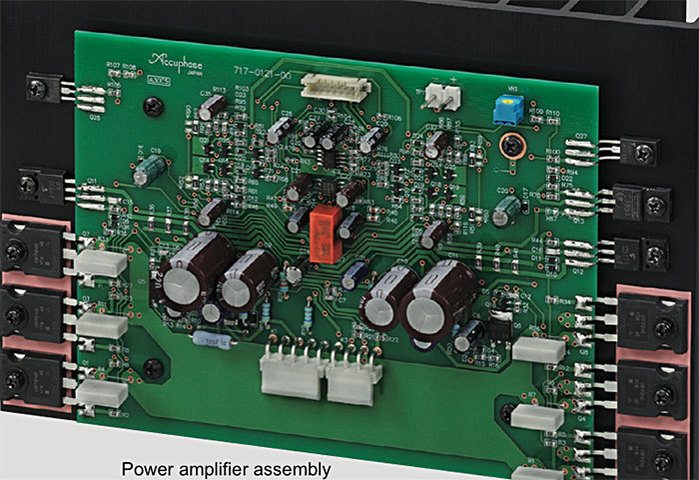 Sound quality – Simply aiming for the best
Triple parallel push-pull output stage with power MOS-FETs and power amplifier stage mounted on a large heat sink. Two identi- cal units are arranged on the left and right sides of the chassis.
Class A operation (30 watts into 8 ohms). Guaranteed linear power of 120 watts into 2 ohms, 60 watts into 4 ohms, 30 watts into 8 ohms per channel.
Strong power supply with massive high-efficiency toroidal transformer and large filtering capacitors.
The E-650 uses a massive power transformer with high output capability. Highly effective filtering is realized with two custom-made aluminum electrolytic capacitors, each with a large 50,000 μF rating.
Advanced Features
Power amplifier stage features instrumentation amplifi- er configuration for balanced signal transmission. MCS+ topology and current feedback principle in am- plification circuitry assure excellent phase characteris- tics in high range.
Semiconductor (MOS-FET) switches used for protec- tion circuitry prevent contact problems and ensure long-term reliability. Eliminating mechanical contacts from the path of the music signal also further enhances sound quality.
Logic-controlled relays for signal switching assure high sound quality and long-term reliability.
MAIN IN switch and preamplifier output and power am- plifier input connectors allow independent use of both sections. Both line level and balanced connectors are provided.
Tone controls with balanced circuit configuration and summing active filters for optimum sound quality.
Versatile array of inputs with two balanced inputs to shut out external noise interference.
Individual phase setting supported for each input posi- tion.
Dedicated headphone amplifier constructed with dis- crete components.
Two option board installation slots on the rear panel provide further versatility. With the AD-50, AD-30, or AD-20 board, MC/MM switching is performed on the front panel.
The DAC input selector button allows the user to select the desired input when using the Digital Input Board DAC-50 or DAC-40 With USB Port. Display of the sam- pling frequency of the locked digital signal is also pos- sible. (This is not supported with the DAC-30, DAC-20, or DAC-10.)
LED-based bar graph power meters with im- proved sensitivity and readability.
Two sets of large speaker terminals that also accept spade connectors or banana plugs.
Dedicated Option Boards
The E-650 has two op- tion board installation slots on the rear panel. These are designed for use with three types of options boards, de- pending on require- ments: DAC-50, AD-50, and LINE-10.
The following option boards can also be used:
DAC-40, DAC-30, DAC-20, DAC-10, AD- 30, AD-20, AD-10, AD-9, LINE-9.
Line Input Board Line 10
Provides an additional set of unbalanced line level inputs.
Analog Disc Input Board AD-50
Features a high-performance phono equaliz- er for playback of analog records.
● MC/MM switching can be performed on the front panel of the E-650.
● On-board switches for input impedance switching and subsonic filter
MC:
For MC type cartridges with low output voltage Gain: 66 dB Input impedance: 30/100/300 ohms (selectable)
MM:
For MM type cartridges with high output voltage Gain: 40 dB Input impedance: 47 kilohms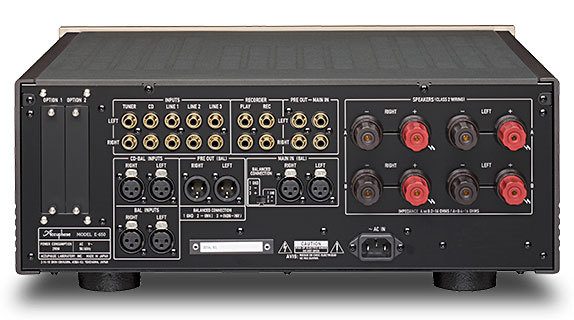 Digital Input Board DAC-50
Provides inputs for reproducing digital music signals from digital components.
● The front panel display of the E-650 can be used to show the USB/OPTICAL/COAXIAL selection and the sampling frequency.
USB:
USB 2.0 cable with Type B connector (max. 2 m)
USB 2.0 High Speed (480 Mbps) compliant
Sampling frequency 2.8224 MHz, 5.6448 MHz, 11.2896 MHz/ 1-bit (11.2896 MHz: ASIO only) 32 kHz to 384 kHz, 32-bit
OPTICAL:
Optical fiber, JEITA CP-1212 compliant
Sampling frequency 32 kHz to 96 kHz, 24-bit
COAXIAL:
75-ohm coaxial cable, IEC 60958/AES-3 compliant Sampling frequency 32 kHz to 192 kHz, 24-bit