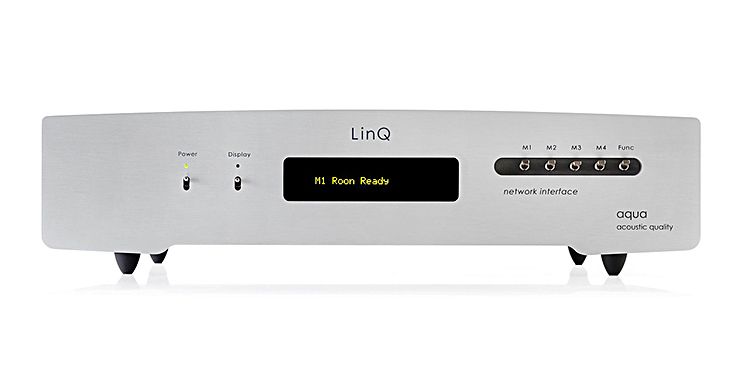 Milan, Italy | 2020 – Introducing the LinQ – Our Network Interface
The new LinQ was created following a precise idea.
Fast and standard technical solutions do not belong to the aqua philosophy.
aqua has developed an extremely streamlined long-life platform and network bridge modules, focused on audio playback functions.
We prefer to use know-how developed in-house, for a number of reasons in respect the aqua SQ standards.
This has required a considerable effort in terms of time and resources, but the result is immediately evident on first use.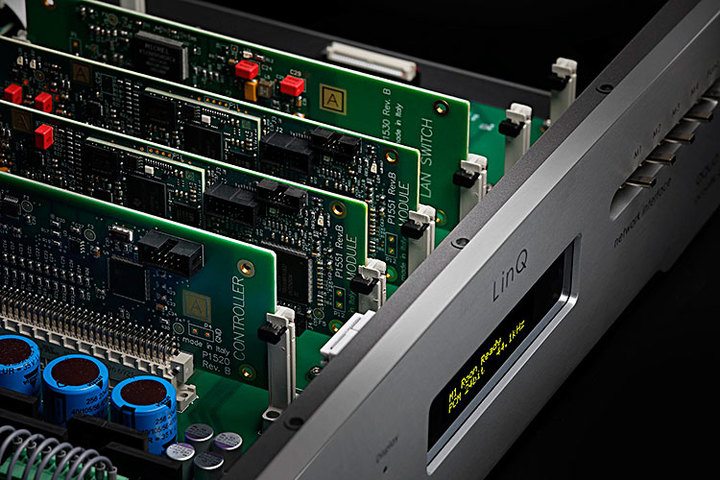 LinQ is a highly modular device, based on a series of completely independent units.
Each module performs a particular function, for which it is optimized.
We will then have a Roon Ready (RAAT) module, a UPnP DLNA streaming module, etc.
Each module has its own dedicated power supply and plugs into a connector on the base platform of the device. In addition to the optimization on the particular function, this architecture guarantees an exceptional possibility of future upgrades.

The communication lines of each module with the network are galvanically isolated. Note that further isolation is guaranteed by the fact that one of the modules is a LAN switch, developed internally by aqua. This is an important point: in fact, during the listening tests, and also in the laboratory ones, we obtained the best results with the use of this architecture with built-in LAN switch.
Always having the sound result as an objective, LinQ does not use a USB interface: the output is on AQlink, the aqua I2S proprietary connection. In this way the "passage" on USB is skipped, avoid any losses in sound quality.
Furthermore, proprietary circuits have been developed in the output FPGA, in order to implement the S/PDIF, AES/EBU and dual-AES outputs.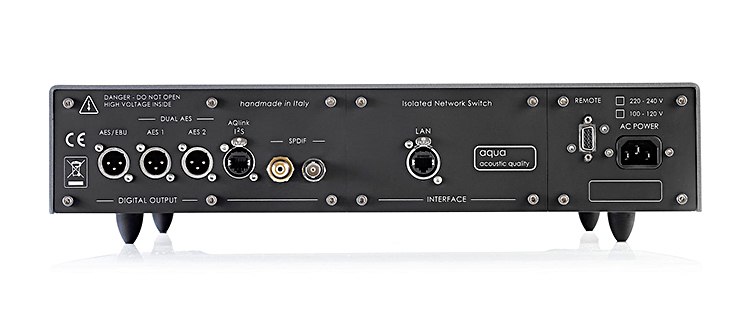 FEATURES
• Proprietary fully-floating hybrid 2-stage Network + FPGA module with
proprietary code
• Uncompromising digital interface AQlink PRO (I2S protocol)
• 4 future-proof network protocols (modules). Available now: Roon Ready
bridge (RAAT) and UPnP DLNA
• 2 separate low noise C-Core power transformers for network circuitry and
digital decoding
• MODULAR DESIGN with upgradeable multi board platform
• High-quality parts
• Input:
– ETHERNET network | n. 1 standard RJ-45 connector LAN
No network configuration is required (DHCP system)
• Outputs:
– AQlink I2S | n. 1 Ethercon RJ-45 connector (PCM 32 bit 384kHz / DSD128 max)
– Dual-AES/EBU (IEC 60958) | n. 2 XLR 110 ohm connectors (PCM 24 bit 384kHz / DSD128 max)
– AES/EBU (IEC 60958-4) | n. 1 XLR 110 ohm connector (PCM 24 bit 192kHz / DSD64 max)
– S/PDIF (IEC 60958-1) | n. 1 BNC 75 ohm connector (PCM 24 bit 192kHz / DSD64 max)
– S/PDIF (IEC 60958-3) | n. 1 RCA connector (PCM 24 bit 192kHz / DSD64 max)
• OLED display with user off-selectable illumination
• RC5 IR remote controller (optional)
• Aluminium anti-resonant cabinet with Nextel
• Designed and handmade in Italy
• 5-year warranty