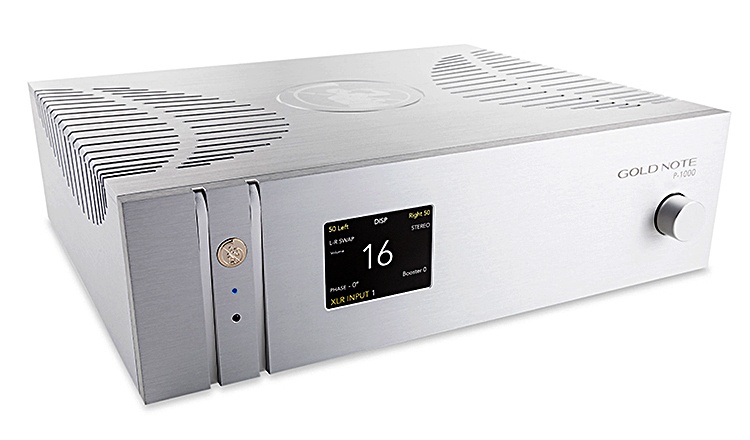 Florence, Italy | 2020 – Designed for High-End audio systems, P-1000 MkII is an innovative Class-A line preamplifier powered by a new proprietary Six Gain Stage design and with Relays volume control and is made for real music lovers. Completing the 1000 series of Gold Note Hifi electronics, P-1000 MkII is powered by a Triple Linear Transformer power supply and features 8 independent stereo inputs. Advanced functions paired with high-quality materials and an exquisite Italian product design turn P-1000 MkII into a luxury solid state amplifier capable of top-class performances.
THE ULTRA-BALANCED PREAMPLIFIER
Designed for High-End audio systems, the P-1000 MkII is an innovative Class-A line preamplifier powered by a new proprietary Six Gain Stage Ultra-Balanced design featuring relays and optical ALPS Encoder volume control. The best audio-grade components provide an incredibly low distortion and extended linear bandwidth for true superior musicality.
The P-1000 MkII belongs to a new era of electronics. Top performance is combined to top technology offering the best possible musical experience, tradition and innovation meeting each other to create such a unique preamplifier.
Featuring a three independent linear transformer power supply and 8 stereo inputs: 4 fully balanced XLR and 4 RCA. The P-1000 MkII offers a large amount of functions: Mono/Stereo selection, Left/ Right channel swap, Absolute Phase swap, Booster technology, fine Balance tuning and quadruple analogue outputs (two pairs of unbalanced stereo RCA and two pairs of balanced XLR).
To perfectly reproduce even old recordings, the preamplifier can be set into Mono as well as Stereo mode. It also allows to swap the Left & Right channels to enable the reproduction of inverted recordings in addition to the absolute phase swap from 0° to 180°.
The P-1000 MkII Booster technology enhances the unit to get the best out of speakers that require power supplies. It provides greater energy in a very specific range of low frequencies. The Booster is completely by-passed when set to OFF.
The P-1000 MkII is easy to control with its large color display showing all functions. All the settings can be found on the screen allowing quick and precise fine adjustments, whether using the Single-Knob-Control rotary joggle conveniently placed on the front panel or the elegant IR remote control.
To enhance the performance of the P-1000 MkII even further, it can be optionally matched with the external super inductive power supply PSU-1250/1000 and the valve output stage TUBE-1012/1006.
Frequency Response
2Hz – 200KHz @ ± 3dB
THD (Total Harmonic Distortion)
<0.001% @ 1kHz
GAIN
+20dB
Signal to Noise Ratio
-120dB
Channel Separation
>118dB
Channel Left/Right
selectable swap
Mono/Stereo
Yes
Absolute Phase
0°/180° selectable
Booster
3 adjustable levels (by-passable/off)
Analogue Inputs
4 Stereo RCA
4 Stereo XLR balanced
Input Level
Up to 10Vrms on RCA
Up to 10Vrms on XLR
Input Impedance
100kΩ XLR & RCA
Audio Outputs
2 Stereo RCA unbalanced
2 Stereo XLR balanced
1 dedicated to TUBE-1006 & TUBE-1012
Output Level
Up to 16Vrms on XLR & 8Vrms on RCA max.
Volume
100 steps
Output Impedance
<10Ω XLR & RCA
Power Supply
Ultra Linear 3 transformers
100-120V / 220-240V 50-60Hz, depending on market destination and not convertible
Power Consumption: 30W max
1 Input for external inductive power supply PSU-1250/1000
Remote Control
Included
IR receiver on front and back
Dimensions
430mm W 135mm H 375mm D
Weight
11 Kg net
16 Kg boxed
Finishes
Brushed Aluminium Black, Gold or Silver
Upgrades

TUBE-1006/1012: Class-A 6/12 Tubes output stages with Dual Mono/inductive tube power supply
PSU-1250/1000: external inductive Dual-Mono power supply
External AC filter: Gold Note Arno AC distributor
Cables: Gold Note Lucca power chord.