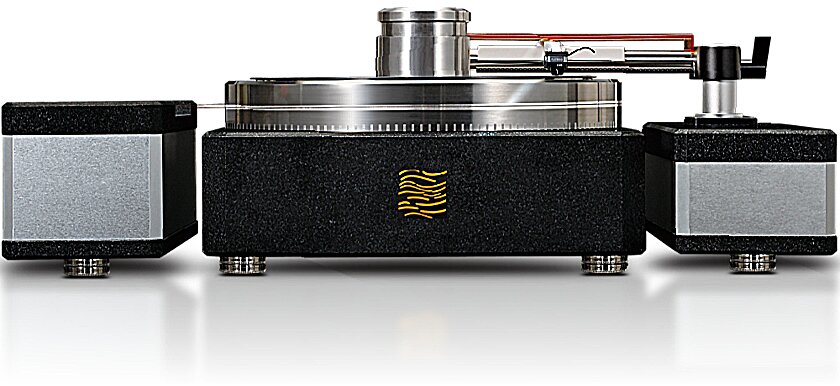 Toyama-city, Japan  | 2022 – A flagship model heavy turntable. The weight of the granite base, the brass platter, and the air floating create the ultimate rotation.
The platter material has been changed from stainless steel to brass, following the previous model's housing design of granite base, air float, and servo-less. With this change, even open-circuit type cartridges (*) using air-core coils are not affected by magnetic flux leakage, creating a quiet and expressive sound.

(*) Due to the open magnetic circuit and the powerful neodymium magnet used to secure the output, even non-magnetic stainless steel is magnetized, affecting the pickup of audio signals.
Heavy turntable
Granite base, brass platter, etc., total weight 100 kgs, which suppresses micro vibrations. Since the platter and tonearm are floated on air layer absorbs even the slightest vibration; the 28 kgs platter is supported only by the pressure of the air (only a few hundred grams). Normally, with a single point of support, you'll hear a dinging sound when you hit the platter, but by damping it with an air layer, you'll get a knotty sound.
Non-servo motor drive
Servo noise is eliminated by open control. The platter is driven by a DC Brush-less motor and thread, and the platter rotates by inertia alone.
It uses a unique "XFD system" that provides to the motor a highly accurate voltage with no fluctuations, based on a crystal transmitter.
Air float linear tracking tonearm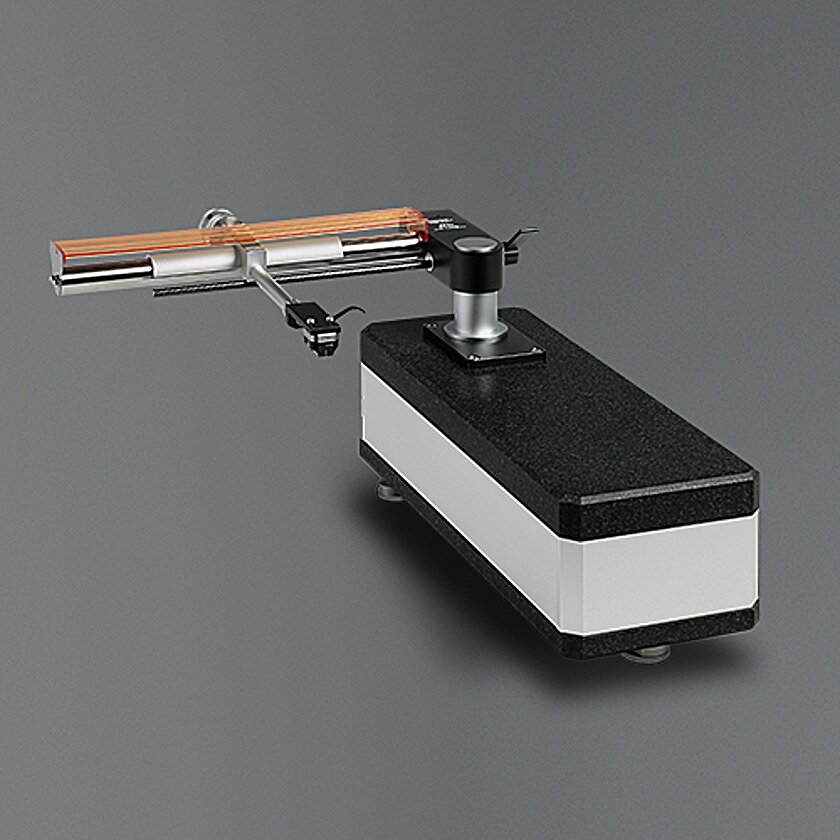 Like the platter, the air layer absorbs micro vibrations of the tonearm, and the 0.1 g of air force moves smoothly and accurately traces the sound grooves. The linear tracking system, which has the same trajectory as record cutting, is also used. It eliminates tracking errors between the outer and inner circumference for fine and stable pickup.
Silence air supply
The air supply is equipped with a highly reliable pump that is also used for medical equipment, and powerfully supplies the capacity required for the platter and linear arm. The double-sealed sound leakage and vibration prevention system maintains sufficient silence even when installed in a listening room.
Model
LFT1M2
■ Turntable section
Material

[Base]JIS0 grade granite

[Platter]Brass

Dimensions

[Base]358W×120H×358D mm

[Platter]φ344×43H mm

Weight

[Base]40 kg

[Platter]28 kg

■ Motor drive section
Motor Control

Quartz Oscillator, No-Feedback "XFD system"

Drive System

Thread drive (Aramid)

Motor
DC, Brush-less, Low-noise
Turntable Speeds
33⅓, 45 rpm
Rotation Precision
±0.3%
Wow/Flutter

0.2%/0.04% or less

Power Supply
AC100/120/200/240 V, 50/60 Hz
Power Consumption
40 W
Dimensions
130Wx120Hx358D mm
Wight
8 kg
■ Tonearm section
Type
Air float linear tracking
Applicable Cartridge Weight
20-40 g (Including Shell)
Applicable Stylus Weight
1.5-5 g
Stylus Pressure Adjustment
Static balance
Screw Adjustment

Azimuth, Tonearm Length, Leveling

Arm Lift
Manual
Output Terminal
DIN 5P
Dimensions
130Wx120Hx358D mm
Weight
1.2 kg
■ Air Supply section
Power Supply
DC12 V
 

 

Accessories

Rhodium-plated AC cord, DC cord, DIN5P Phono cable (Selectable either balance or unbalance)

Head shell, Setting gauge, Level, Air tube, Drive thread

Sold Separately
Player Board LPB1
Warranty Period
5 years(Excluding consumables)
Since the motor is not servo controlled, it takes time to reach a constant speed.

Due to the use of granite, the pattern and color tone of the stone may vary depending on the production lot.

Product appearance and specifications are subject to change without notice.