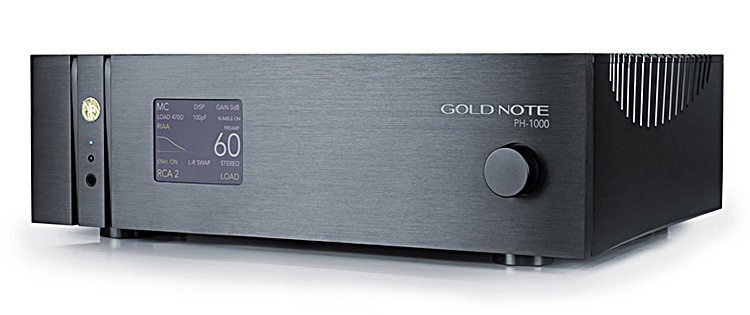 Firenze, Italy | 2021 – Introducing the PH-1000, Gold Note's new premium phono stage.
What if you could play back any LP ever pressed with the correct equalisation? And what if you could adjust or even modify that equalisation curve on the go? Or adjust any of the settings using a simple knob without messing around dip switches and external components? That's Gold Note's PH-1000, an ultra-low noise phono stage with high gain and no audio filters designed to be easy to use and easy to love in a way that will change how you think about your analogue setup.
To sum it up, the PH-1000 is a premium phono stage that combines a digital interface with a Class-A discrete component design, offering the widest range of equalisations, gain, load and capacitance adjustments to correctly match any cartridge ever developed. It doesn't just come with 18 EQ curves available for Stereo, Mono and 78rpm records – it allows you to adjust (yes, actually adjust) the equalisation to virtually recreate any EQ curve ever used to press a record.
It also boasts a headphone output with dedicated volume control, 3 independent inputs (RCA and XLR), and the Single Knob Control (the signature rotary control) that allows you to navigate the menu on the display to change settings while playing music.
There's more, such as the external load, Stereo/Mono control, phase inversion, L/R channel swap and Rumble subsonic filter. Not to mention that it can optionally feature a built-in Class-A line preamplifier – what more could you want?
Watch the video on YouTube www.youtube.com/watch?v=6-fAnKm4drY
You could say this is the result of a modern approach to the concept of HiFi inspired by the needs of the contemporary audiophile. The whole design is in fact based on a very simple idea: to control analogue components through a digital interface and get rid of dip-switches, external boards and other less practical solutions.
The other simple idea that emerges is that the audio signal path is always as short as possible to preserve the highest audio quality. The same idea that inspired the addition of the headphone output, which makes it possible to create the shortest audio chain ever, going from the cartridge to your ears in only 4 steps. Or the Class-A line preamp that allows the PH-1000 to be connected straight to your power amp.
The reason behind it is that the shorter the path, the better the audio quality. And the PH-1000 does just that.
Available in two models – PH-1000 (suggested retail price of €9.600,00) and PH-1000 LINE (€13.500,00), with the LINE model featuring the Class-A line preamp stage – it's clearly a phono stage dedicated to high-performance systems.
Want to see the PH-1000 in your living room?
Thanks to the magic of AR (Augmented Reality) you can see it right in front of you – click on the link from your smartphone or tablet and tap the AR icon www.goldnote.it/ph-1000-3d
Moving to the specs: the phono stage features 12 load options (from 10Ω to 100KΩ), 14 gain levels (from 31dB to 74dB) and 7 options to adjust the capacitance (from off to 1000pF). There are 3 RCA and 2 XLR inputs which can also be used for external load plugs, and a dedicated connector for the external power supply.
The rumble filter can be turned ON/OFF (it's a 10Hz/36dB octave filter) and the Stereo/Mono control allows for 5 different settings (Stereo, Stereo 180°, Mono, Mono 180°, Mono L). Last but not least, it comes with a remote and the headphone output level can be set to High or Low to match a wide range of headphones despite their sensitivity.
There are 4 EQ curve setups that can be manually adjusted by acting on three main parameters (turnover bass, bass shelf and treble cut) using exclusively analogue technology. Each curve can also be further customised using the proprietary "Enhanced" function which comes from the Neumann Cutting Lathe project and provides superior dynamic and high-frequency extension. As always, the level of quality meets the highest standard throughout the entire production: from the precisely machined aluminium to the audio-grade components and circuitry, each part undergoes strict QC computer-controlled tests.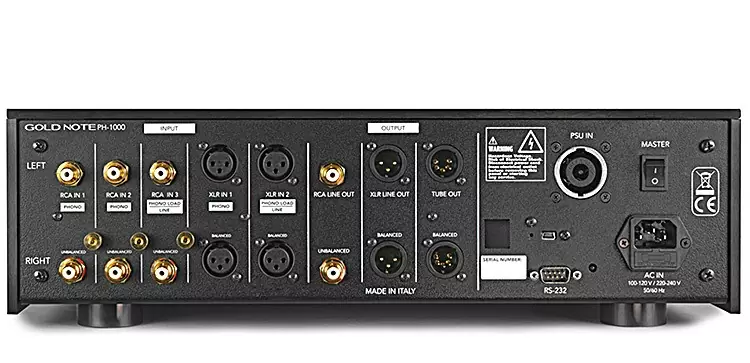 Visit the official page on Gold Note's website to learn more www.goldnote.it/phono-stages/ph-1000