Thiene, Italy | 2023 – The TH400 turntable has been developed with an imposing structure that includes a 400mm diameter platter supported by a proportionally designed rotation system. Both elements of the chassis are composed of a thick layer of aluminium and black Marquinia marble, and supported by high precision magnetic suspensions. This turntable was designed to ensure exceptional sound performance. In fact, the unusual dimensions of the platter, frame and motor system allow an extraordinary inertial torque to be obtained, giving never before achieved dynamics levels and authority of sound. When listening, the soundstage expands, the finest details are perfectly reproduced and energy is unleashed.
THE PLATTER AND ITS EXTREME DIMENSIONS
The platter of TH400 has a diameter of 400mm. These extreme dimensions make it possible to obtain a very high inertial torque, minimising any slowdown or rotational disturbance and giving the sound exceptional dynamics and authority. The aluminium platter is combined to another disc, in a damping and antistatic plastic material which reduces resonances and contributes to sound clarity, enhancing the timbre.
The rotation system has been designed to ensure maximum balance and smoothness. The platter is fixed in position by an extremely robust polished pin which has very low surface roughness minimising friction noise and preventing wear and tear to the self-lubricating bushings inside the platter support. The whole array has been adequately sized considering the impressive diameter of the platter to guarantee optimum support and balance, as well as exceptional rotational stability. The spindle is supported by a durable, well-hardened steel ball. Particular care has been taken with the support point of this sphere to minimise resonances and obtain an exquisitely detailed sound.
A DRIVE UNIT WITH MAXIMUM STABILITY
One of the main parameters that contributes to emotional involvement during a listening session is dynamics, and more specifically transient response. This is often compromised due to compression during the making of a vinyl record. Restoring full dynamics becomes essential for a more engaging and enhanced listening experience. That is why Thuono Audio turntables are designed to give the maximum dynamic expansion. Turntables with belt drive systems and those where motor drives are separated from the chassis, such as in the TH400, can curtail motor rumble transmission. However, this system can also reduce energy transmission. To avoid this inconvenience and assure maximum dynamics, without sacrificing anything on a clear and high-fidelity sound, the use of a flywheel has been introduced which allows for greater stability in rotation speed and a reduction of the jerky movements typical of any motor. The flywheel also ensures a greater (rotational) inertia giving the sound increased dynamics and rich texture. The TH400 consists of a flywheel with a diameter of 160 millimetres, the largest in the TH series. Together with the other oversized components of the turntable, it allows for maximum inertial torque, which leads to unprecedented dynamics during the listening experience. A direct current (DC) motor mounted on ball-bearings has been placed in a flexible rubber support that further reduces vibrations and rumble. The motor and flywheel have been attached to a solid black Marquinia marble cylinder to guarantee even greater stability. Rotation speed is monitored by an encoder. This system ensures stability and immediate recovery in case of changes in friction which can derive from mechanical alterations.
33 AND 45 RPM WITHOUT DEVIATIONS
The power supply includes a microprocessor combined with a Hall effect sensor which regulates motor stability while maintaining a constant platter speed rotation of exactly 33,33 or 45 RPM. This power unit ensures the absence of electrical noise thanks to a linear regulation system that is free from switching mode disturbances. The power converter is devoid of dispersed magnetic fields because of the presence of magnetic short circuit coils.
MAGNETICALLY SUSPENDED FOR GREATER NOISE ISOLATION
As it is a highly sensitive receptor, the cartridge can detect even the most minuscule vibrations which can negatively affect sonic clarity. That is why vibrational disturbances are among the main factors that can reduce sound quality. Those vibrations can come from the speakers, travel through the ground or air, or they can originate from the mechanical components of the turntable itself such as the motor drive and rotating platter. In order to reduce vibrations, Thuono Audio has designed three magnetic suspensions which support the entire chassis and not just the platter. This solution allows cohesive functioning of the platter and tonearm in an integrated rigid system that does not minimally compromise dynamics.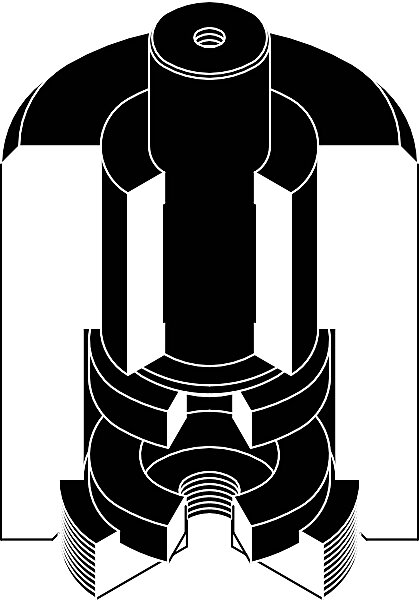 Contrary to traditional spring suspensions, magnetic suspensions minimise contact between the upper and lower chassis creating additional noise isolation and enhancing sound clarity. Magnetic suspensions are made up of two oppositely placed magnetic rings. The upper ring is connected to the suspension shaft, which is driven by a self-lubricating, low-friction bushing that does not require maintenance over its lifetime. This system allows for supreme fluidity of movement and therefore, excellent vibration damping. Furthermore, oversized turntable support discs designed to further lessen vibrations have been placed under the chassis.
THE CLAMP FOR AN ELEVATED LISTENING EXPERIENCE
The TH400 model includes the Thuono Audio Clamp. It is a screw-on clamp that presses the record down so that it lays tighter to the platter. Materials such as bronze and aluminium have been chosen to provide optimal handling of resonances and sound balance. When listening with this clamp, it is possible to perceive an increased sonic richness as well as more spatial localization and a thick texture. A special copyrighted electromagnetic disc developed in collaboration with Sublima Audio Research is attached to the base of the clamp. While a record plays, small contact microcharges can commonly form between grooves causing the stylus to lift by a few microns and spoil the sound quality.
Moreover, those microcharges are among the main factors that cause wear and tear, both to the stylus diamond as well as the grooves of the record itself. Some intervention on electrostatic charge is therefore essential. The disc at the base of the clamp helps to absorb these contact charges and to improve not only record reproduction, but also the lifespan of the stylus diamond and records themselves. With the Thuono Audio Clamp, reproduction becomes clearer and richer in both harmonics and timber and above all accurate sound range reproduction.
TECHNICAL FEATURES
Total weight: approx. 55 kg (without tonearm and power supply)
Dimensions:

Width: 775 mm
Depth: 510 mm
Height: 360 mm

Plate dimension: ⌀ 400 mm
Plate weight: 13,5 kg
Speed ranges: 33,33 and 45 RPM
Drive unit: High torque 12V DC motor, belt drive
Power consumption:

Consumption in operation: 7,5 W
Standby mode: 5 W
Off mode: 0 W