Worcester, MA, USA | 2022 – In a class of its own!
With 350 Watts RMS of power per channel into 4-ohms (2-ohm stable), Brama Integrated Amplifier's high-current, class AB lateral MOSFET output stage drives the most demanding loudspeakers with absolute conviction.
What truly makes listening with Brama such a highly involving experience is not only its quantity of power, but its exceptional quality. Unraveling the finest nuances in your recordings in such a pure and effortless manner requires wide bandwidth design, advanced PCB layout and grounding, and careful component selection and matching. 
Heatsink temperatures and speaker output currents are continuously monitored and protected – so you only need to focus on long-term listening enjoyment.
300B, or not to be…

Brama Integrated Amplifier's linestage is Vinnie Rossi's realization of the audiophile dream – having it both ways, each at the highest possible level of performance:
Whether you are seeking the tonally rich and holographic presentation of 300B directly-heated triodes, or the absolute purity of solid-state, the Brama linestage is the only one in the world that lets you enjoy both sonic presentations with the press of a button.   
Fully balanced, dual mono input-to-output architecture is positioned directly behind the rear panel for the shortest possible signal paths. Super-regulated power supplies for both the power rails and 300B heating supply achieve ultra-low noise and optimal transient response.
Responsive, resilient power.
Brama Integrated Amplifier's massive power supply boasts a custom-wound 1750VA, magnetically shielded transformer with a highly inductive, insulated core. Dual secondary windings feed independent, dual-mono linear power supply PCBs for both the preamplifier and power amplifier sections.
Ultrafast soft recovery diodes, massive filter capacitors, and super-regulated outputs deliver vanishingly low noise and superb dynamics.
The AC mains power is continuously monitored for fault conditions, delivering protection and notification to the Brama Remote in microseconds. No need to replace interior fuses, as our Hall-effect current sensors deliver advanced protection faster than you can blink!
Analog is always timeless.
The front panel of the Brama Integrated Amplifier reveals a clean layout, luxurious feel, and timeless design that intentionally excludes digital displays and push buttons. 
Each bespoke, analog gauge features precision air core movements, responsive driver circuitry, and machined aluminum hands. Sapphire glass and highly-polished stainless bezels seamlessly integrate the gauges to the front panel.
Solid aluminum knobs on the front panel are attached to Swiss-made, precision-stepped rotary switches that give manual control an incredibly satisfying feel.
As with all Brama gauges, backlight intensity is adjustable via the Brama Remote and is visually stunning, day or night!
Design that takes center stage.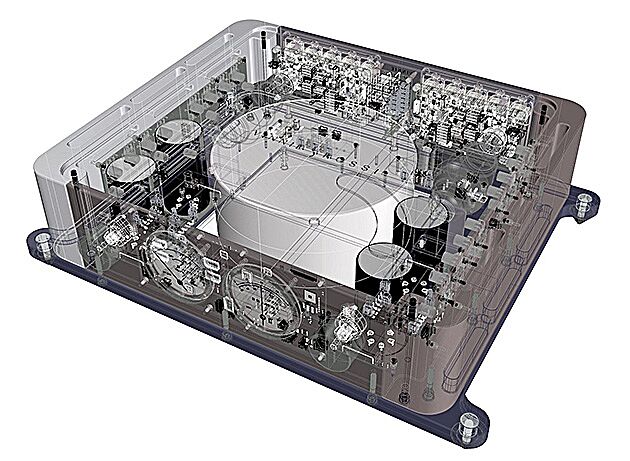 Brama Integrated Amplifier incorporates advanced electrical, mechanical and industrial design techniques throughout. Starting with a low-resonance plinth, the entire chassis is machined from solid aluminum billet that is finely bead-blasted, anodized and laser engraved for a spectacular finish that feels as premium as it looks.
Inside the Brama is equally impressive. Multilayer, gold immersion PCBs with high copper content meticulously route analog, power, and fault-protection circuitry.
Every Brama is hand assembled and tested, one at a time, in our new manufacturing facility in Massachusetts, USA and is backed by a 10-year warranty.
Control. Lots of it.
Brama Remote's intuitive menu structure, high resolution display, and tactile push buttons provide you with seamless control of your listening experience.
A built-in ambient light sensor and accelerometer automatically controls the display brightness and senses when you are ready to take control. Bluetooth communication with your Brama Integrated Amplifier means there are no line-of-sight or range issues, and USB-C connectivity makes battery recharging and firmware updates easy.
Brama Remote is machined from a solid block of aluminum and uses sapphire glass for the display area, offering remarkable scratch resistance and clarity.
Specifications
AC Mains: 100-125Vac or 200-250Vac, 50/60Hz
(Transformer primaries are automatically switched based on the
AC mains voltage detected)
______________________________________
Output Power (8-ohms): 200W RMS per channel
Output Power (4-ohms): 350W RMS per channel
______________________________________
THD+N (using solid-state linestage): < 0.1% (20Hz – 20kHz)
THD+N (using 300B DHT linestage): < 1% (20Hz – 20kHz)
______________________________________
Frequency Response:
5Hz – 100kHz (+/- 0.5dB)
______________________________________
Signal-to-Noise Ratio: > 100dB
______________________________________
Input Impedance: 100k ohm
______________________________________
Gain: 18dB (low) / 24dB (med) / 32dB (high)
______________________________________
Balanced line-output impedance: < 100 ohms
______________________________________
Speaker Output Impedance: < 0.01 ohms
______________________________________
IEC Jack Fuse: 12A, Slow Blow (5x20mm)
______________________________________
Product Weight: 85 lbs (38.5 kg)
Product Dimensions (including knobs, jacks, feet):
20.5″ width x 17″ depth x 5.75″ height (520mm x 430mm x 145mm)
Remote Dimensions: 6″ x 2″ x 0.5″ (150mm x 50mm x 12.5mm)
Shipping Weight: 110 lbs (50 kg)
Shipping Carton Dimensions: 24″ x 24″ x 14″ (610mm x 610mm x 355mm)
______________________________________
Note:
• Vinnie Rossi reserves the right to change product features and/or specifications without notice to improve reliability, function, design, or otherwise.
• Shipping to authorized Vinnie Rossi distributors and dealers in early 2022.